railway-international.com
Written on Modified on
Alstom to Test Coradia iLint in the Netherlands
Alstom has signed plans for a pilot project to test its hydrogen fuel cell train, the Coradia iLint, outside Germany for the first time. The goal is to show that hydrogen fuel cell technology is suitable for zero-emission rail travel on non-electrified lines in the Netherlands.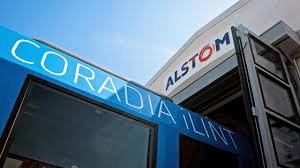 The signing took place at Klimaattop, the second Climate Summit Northern Netherlands, took place in Groningen on 31 October. The other signatories were the Province of Groningen, energy company Engie, ProRail and Arriva.
Alstom says it will put the Coradia iLint through its paces between Groningen and Leeuwarden at speeds of up to 140km/h. The tests will take roughly two weeks. As far as timing is concerned, the parties aim to perform the tests during the first quarter of 2020.
Bernard Belvaux, Managing Director of Alstom Benelux, said:
"Alstom is committed to developing and implementing mobility solutions that permit not only the emergence of fully sustainable transport systems but also help drive the broader energy transition. We look forward to demonstrating what has already been proven in Germany – that hydrogen represents a highly suitable way forward in both cases."

The Coradia iLint
The quiet and emission-free Coradia iLint is the first hydrogen fuel cell passenger train in service. The fuel cells produce electrical traction power with only water and steam as waste products.
Alstom's Coradia iLint entered commercial passenger service for the first time in Lower Saxony, Germany, in September 2018 with further units on order. The Rhein-Main Verkehrsverbund has also ordered Alstom's hydrogen fuel cell train. The rolling stock manufacturer will deliver these 27 units by December 2022.
The benefit of hydrogen fuel cell trains, like battery-powered trains, is that they can run using electric traction even where lines are not electrified. The Netherlands has around 1,000km of such track. However, unlike battery-powered trains, which have a range of between 40 and 100km, Alstom's hydrogen train can travel 600–800km on one tank of hydrogen.
www.railway-news.com