railway-international.com
Written on Modified on
102 new intermodal wagons for Mercitalia Logistics
Ermewa and Mercitalia Logistics (Gruppo FS Italiane) strengthen their cooperation with a long-term lease agreement.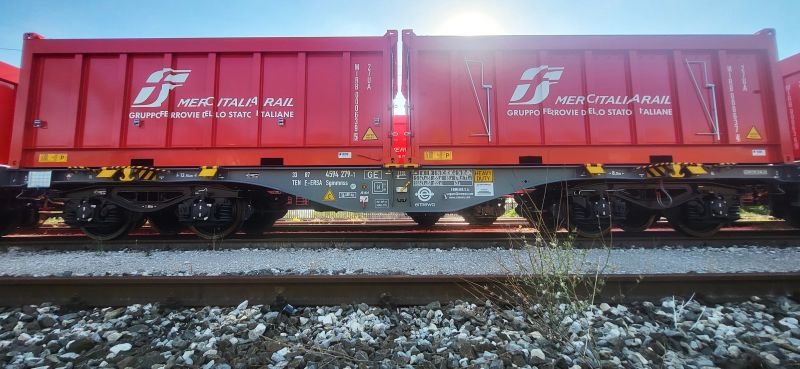 Ermewa has delivered 102 brand new intermodal wagons to Mercitalia Logistics, a subsidiary of the Italian state railway, since July this year. The 4-axle intermodal wagons - type Sgmmnss 40' - were built by Tatravagonka in Poprad (Slovakia) and are suitable for ISO 20', 30' and 40'
containers as well as swap bodies. In the meantime, all newly rented wagons have arrived in Turin at Mercitalia Logistics and are in operation. Already in July, the 67 wagons of the first batch could be used in local traffic in Florence, where they transport gravel from a tunnel construction site. With the quick provision of the wagons and their rapid deployment, Ermewa meets the requirements of Mercitalia Logistics and, in particular, Mercitalia Rail, a company of the FS
Group logistics hub.
"We are pleased to further develop our successful cooperation with Mercitalia and expand our services to meet their challenges," says Cyrille Guyon, Deputy Managing Director of Ermewa. "Mercitalia is more than just a customer, it's our growth partner and the trust they place in us is
a testament to the value we bring,"
emphasises Barbara Recli, Sales Manager at Ermewa's Milan, Italy office.
Mercitalia Logistics CEO, Sabrina De Filippis points out: "This is a further step towards the renewal of our fleet to serve our customers, and the realization of new infrastructure green transportation in line with the best European standards". Ermewa has maintained a strong presence in Italy for more than 20 years and the Italian state railroad is one of its major customers. Mercitalia Rail Srl is 100% owned by Ferrovie dello Stato Italiane and is the main Italian railway company in the freight sector. With over 340 electric locomotives and 130 diesel mainline locomotives, it operates nationally and internationally with up to 100,000 trains a year.

www.ermewa.com