railway-international.com
Written on Modified on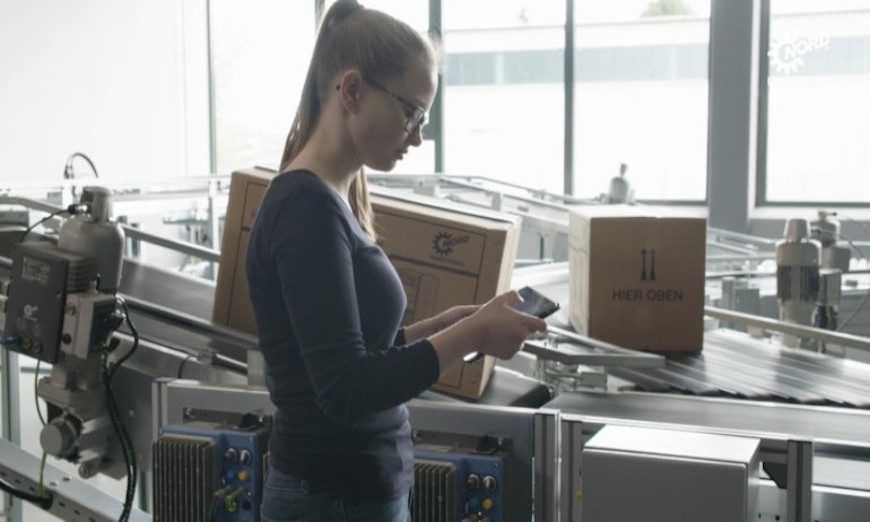 NORD DRIVESYSTEMS goes mobile: With the NORDCON APP and the corresponding "NORDAC ACCESS BT" Bluetooth stick the drive specialist has created a mobile commissioning and service solution for all NORD drives.
In a mobile age, customers increasingly expect mobile solutions for efficient handling of the installed drive technology directly on site. NORD DRIVESYSTEMS has catered for this requirement and has developed an app for diagnosis, analysis, monitoring and parameterisation of NORD drive systems. The new NORDCON APP together with the NORDAC ACCESS BT Bluetooth stick provide a mobile commissioning and service solution and give users new options for control and optimisation of their NORD drives. This speeds up commissioning, simplifies maintenance and enables faults to be remedied faster. With this, down times and costs can be reduced.
Added value for day-to-day work
The dashboard-based visualisation is useful for drive monitoring and fault diagnosis. With a help function and rapid access to parameters, parameterisation of drive units is simple and easy. In addition, the app has further practical features such as a backup and recovery function for simple handling of drive parameters, as well as an individually configurable oscilloscope function for analysis of the drive. Video tutorials and the possibility of direct contact with NORD Support additionally assist users in their work.
A solution for mobile use
The NORDAC ACCESS BT acts as a bridge between the drive system and the app. The stick is connected to the software via Bluetooth and is used directly on the frequency inverter. Users therefore have practical access to the drive data and remain in full control of access. The NORDAC ACCESS BT can also be used without the app, for example to save parameter data. If the frequency inverter is damaged or the the drive has to be replaced, the original parameters can be easily uploaded from the stick. Parameter transfer between a drive and a PC is also possible.
The NORDCON APP and NORDAC ACCESS BT are available for all NORD drive electronics and can therefore be used with decentralised frequency inverters as well as control cabinet solutions and with optional modules. The app is available for iOS and Android operating systems in the App Store or in Google Play.
About NORD DRIVESYSTEMS
With more than 3,900 employees, NORD DRIVESYSTEMS has been developing, producing and selling drive technology for over 50 years, and is one of the leading global full-service providers in the industry. In addition to standard drives, NORD delivers application-specific concepts and solutions for special requirements such as energy-saving drives or explosion-protected systems. In the 2017 financial year annual sales amounted to 630 million Euros. NORD now has subsidiaries and sales partners in 89 countries worldwide.
The extensive sales and service network guarantees optimal availability, enabling short delivery times and customer-oriented service. NORD produces a very diverse range of drives for torques from 10 Nm up to over 250 kNm, provides electric motors in the power range of 0.12 kW to 1,000 kW, and manufactures frequency inverters with the required power electronics of up to 160 kW. Inverter solutions are available for conventional control cabinet installations as well as for decentralised, fully-integrated drive units.
www.nord.com