railway-international.com
Written on Modified on
InnoTrans 2018: Leading Rail Show Boasts Record Visitor Numbers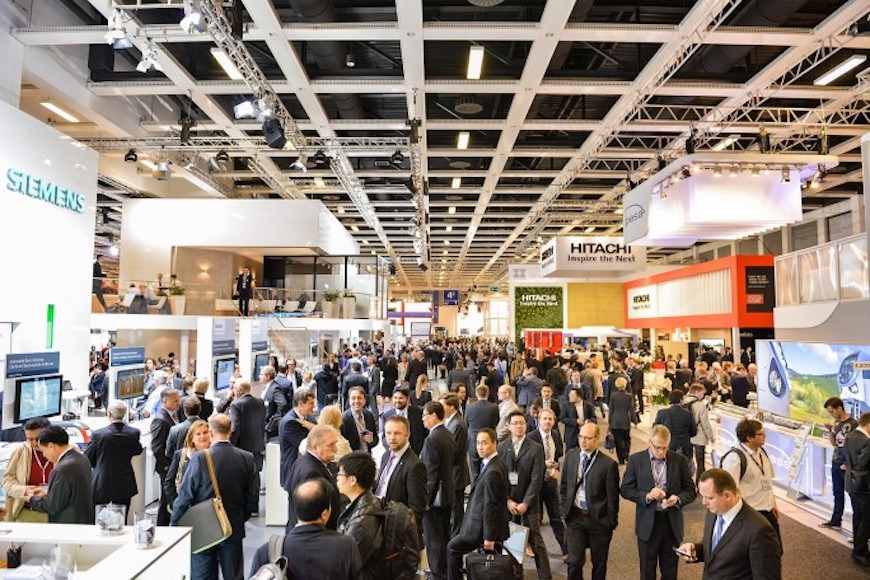 InnoTrans 2018 is over once again! The largest trade fair in the world for the rail industry closed on 21 September after a successful four days of exhibitions and networking. The organisers have reported that a record number of exhibitors and visitors attended the latest edition of the biannual conference at the Berlin Messe.
160,000 trade visitors from 110 different countries attended InnoTrans 2018 and engaged with 3,062 companies and institutions who were exhibiting their products and innovations at the conference. In a poll by InnoTrans 52% of visitors said that they were based outside of Germany. The highest increase in presence was in visitors from southern, central and eastern Asia. 25 business delegations from 18 countries also attended the conference.
Dr Christian Göke, CEO of Messe Berlin, said:
"This year's InnoTrans once again impressively showed that it is the ideal platform for presenting forward-looking innovations, combined with an enormous international appeal. No other event offers trade visitors such a comprehensive and global insight into every part of the industry's value chain."
50% of respondents told the InnoTrans poll that they sent senior representatives of their organisations. Overall, 89% of respondents also confirmed that they were happy with their experience at the conference.
Dr Ben Möbius, Managing Director, German Railway Industry Association (VDB), said:
"InnoTrans 2018 was spectacular. Battery and hydrogen-powered drivetrains, digitisation, cybersecurity – the future of mobility is ready to go now. This leading international trade fair gave a fascinating demonstration of the innovative capabilities of our industry. Around the world we are pushing the limits of what can be achieved in terms of protecting our climate and offering quality to the customer. I believe InnoTrans 2018 showed that the rail industry stands for a high degree of common sense – and increasingly for fun."
Philippe Citroën, Director General, Association of the European Rail Industry (UNIFE), said:
"With every edition InnoTrans proves itself to be the most attractive exhibition for the rail industry in the world and the place to be for rail professionals. UNIFE took again the opportunity to present the results of the 7th edition of the World Rail Market Study, to reinforce the cooperation with the other European and international stakeholders, as well as to address key issues for the European Rail Supply Industry such as the implementation of the 4th Railway Package, ERTMS, competitiveness, digitization, research and innovation, and quality (IRIS Certification™). Even though this edition just finished I am already looking forward to the next one in 2020, which will for sure surpass the records established by the 2018 edition."
Sabrina Soussan and Michael Peter, CEOs, Siemens Mobility GmbH, said:
"InnoTrans 2018 went extremely well for us. We spoke with many customers about joint projects, which both confirmed our efforts and inspired us, and there was keen interest in our products. The main focus was on the digital transformation, which with our technology enables operators around the world to make trains and infrastructures intelligent, to generate long-term added value over the entire life cycle, improve passenger comfort and guarantee availability."