railway-international.com
Written on Modified on
STADLER IS PAVING THE WAY FOR A FASTER ETCS ROLL-OUT IN GERMANY
Deutsche Bahn (DB), Stadler and its engineering joint venture AngelStar have prepared locomotives for the European Train Control System (ETCS) for the first time without the involvement of the locomotive manufacturer.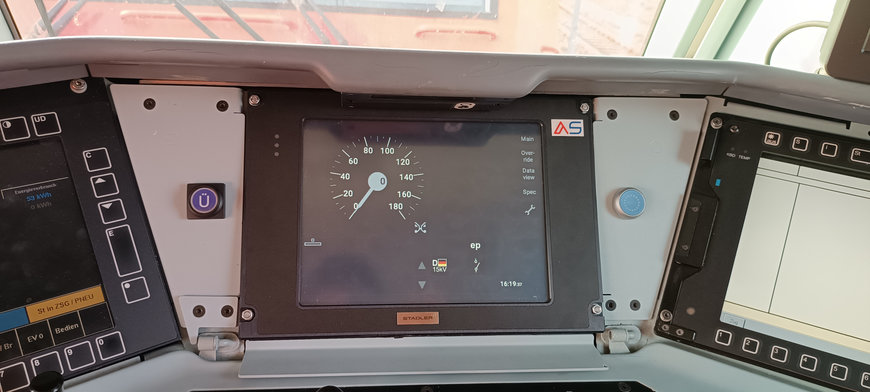 Manufacturers' capacities are considered likely to be one of the potential bottlenecks when around 13,000 locomotives and multiple units in Germany have to be retrofitted for ETCS in the coming years. The retrofits are necessary because more and more railway lines can only be used with the new, pan-European standardised technology. ETCS represents the basis for the further digitalisation of railway operations. The successful completion of an ETCS retrofit without the involvement of the vehicle manufacturer makes new capacities available in this area, and will therefore make a significant contribution to ensuring a faster ETCS roll-out in Germany.

Following successful retrofitting, two DB Cargo locomotives are now back on the tracks with the GUARDIA Baseline 3.4.0 ETCS automatic train protection system. This is the first retrofitting of DB locomotives from the 185.2 series with the ETCS system from Stadler. The pilot project by Stadler, DB and AngelStar therefore required particularly complex pioneering work before the first locomotive received its re-approval as "First of Class". Official approval was much simpler for the second locomotive converted in the same way: since it was deemed to be structurally identical, it was awarded "Conformity to Type" status. All future retrofits performed in this manner can now refer back to this model.

The ETCS automatic train protection system GUARDIA from AngelStar, a joint venture between Stadler and the MERMEC Group, has already been approved in several European countries and is in operation in Germany, Poland, Hungary, Slovenia, Switzerland and the Netherlands. GUARDIA consists of both hardware and software components that are used in the trains. The system allows the train driver to visualise the position of the train, its speed and other data. All this data is also transmitted to a control centre. Data such as track warrants can be collected at the same time.
 
www.stadlerrail.com