railway-international.com
Written on Modified on
Talgo's ICE L for Deutsche Bahn begins testing in Germany
It is the only long-distance train on the global market with 100% low-floor at platform level.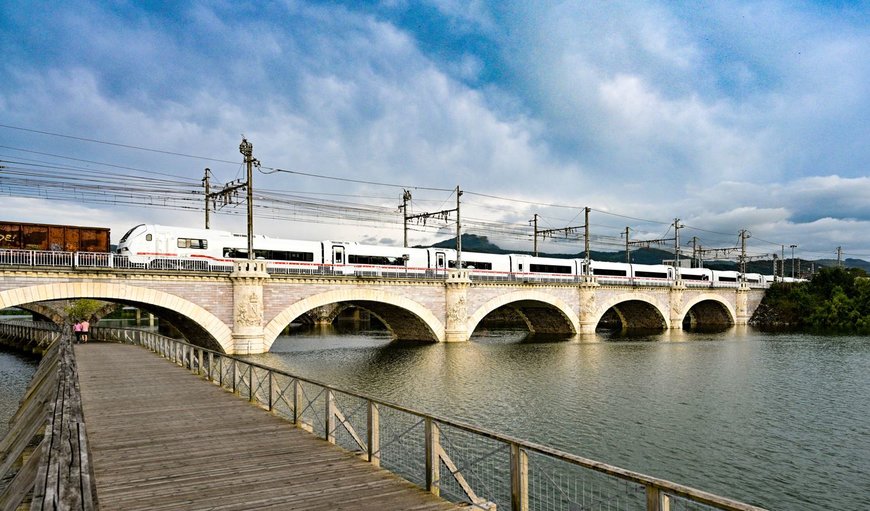 The first ICE L long-distance and high-speed train, manufactured by Talgo for Deutsche Bahn, has arrived this week in Germany, where certification tests will begin imminently with a view to its entry into service between Berlin and Amsterdam (Netherlands) at the end of 2024. This is the first of 79 units that Talgo will manufacture for the German operator, as part of a framework contract for 100 units and within the strict schedule agreed with the customer.
Manufactured entirely in Spain, this unit of 17 passenger carriages has been transported by rail track on a journey of some 2,000 kilometres in length and several days in duration, crossing France and a large part of Germany. The initial destination of this composition is the Zughotel (literally, "hotel for trains") in Braunschweig, Lower Saxony.
Static tests for the ICE L's homologation will begin there. As soon as this phase is completed, the trainset will head to Poland, specifically to the Żmigród test track, 50 km from Wroclaw. At this facility, dynamic tests will be carried out at speeds of up to 160 km/h. In a later phase, the train will undergo on-track tests in Germany under conditions very similar to real operation, up to 230 km/h. On homologation runs it even has to reach a top speed of 253 km/h.

Climatic tests in Vienna
In parallel, a second ICE L set has already arrived in Austria, in the aerodynamic and climatic test tunnel that Rail Tec Arsenal (RTA) has in Vienna. These facilities, unique in the world, will allow Talgo to subject the train to all kinds of atmospheric conditions, from extreme solar radiation to rain, snow and ice, and all of this combined with wind simulations at the same speed that the train will experience on the track.
The trains, which belong to the Talgo 230 technology platform, will be operated by Deutsche Bahn throughout Germany and on international routes under the ICE L trademark, which designates long-distance and high-speed services that will also have 100% low-floor at platform level in all their carriages (Intercity-Express Low-Floor) and will therefore be fully accessible, a unique feature of the Spanish company within the global railway industry and which is also a new feature in the German operator's extensive network of services. The first ICE L passenger service will connect Berlin to Amsterdam starting at the end of 2024, connecting with Denmark and Austria later.
In addition to easy access to the cars, the trains have other features that improve passenger comfort: power sockets and tablet holders in all seats, both in second and first class; separate baby compartment; eight bicycle racks; information monitors in all doors; seat reservation displays; intelligent lighting; touchless technology in the toilets to flush the toilet, use the soap and disinfectant dispensers and open or close the waste bin without pressing a button; and powerful air conditioning systems to withstand outside temperatures of more than 40ºC.
Each train features a total of 562 seats, 85 of them in first class and 477 in second class, including a bistro/cafeteria car and another for people with reduced mobility (PRM), and incorporates a new interior design scheme with newly developed seats characterised by combining functionality and durability with the luminosity and warmth of the materials. The new carriages also incorporate a new type of window designed to improve telephone and mobile data coverage on board the train.
The largest order in Talgo's history
Deutsche Bahn unveiled its ambitious plan to renew and enlarge its ICE high-speed train fleet in mid-May, resulting in the largest train supply contract in Talgo's more than 80-year history. The German operator ordered 56 new units for around €1.4 billion, an amount that was in addition to the 23 units initially ordered under the 100-trains framework contract signed in 2019.
In total, Talgo will manufacture ICE L 79 units that will gradually come into operation from autumn 2024: state-of-the-art trains, with more space and a high level of comfort, consisting of a multisystem locomotive that provides traction to the 17 passenger carriages, of which the last one incorporates a driver's cab to make operations more flexible, in a configuration unknown in Spain, but quite common in Germany.
www.talgo.com