railway-international.com
Written on Modified on
Meeting in Riga Boosts Knowledge Sharing Between Rail Baltica and Tunnel Euralpin Lyon Turin
Representatives from Rail Baltica and TELT (Tunnel Euralpin Lyon Turin) recently gathered in Riga for a workshop.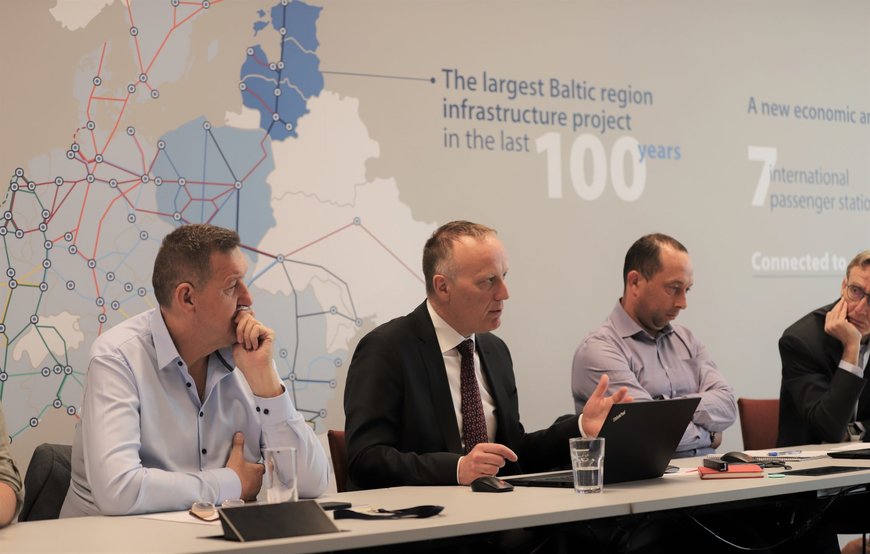 They shared insights and discussed the progress of the two European railway mega projects. The meeting allowed for open discussions and case-based experience exchange as both projects share a common vision and have the potential to greatly influence regional growth and socio-economic prospects.
With multinational and cross-border scopes, both Rail Baltica and TELT embody transformative endeavors that hold a great potential for their respective regions. The workshop provided a platform for representatives to connect, share experiences, learn from each other, and explore potential collaborations between the projects.
"We are pleased to strengthen our partnership through this best practice meeting. Together with TELT we share a joint vision and objectives in transforming the railway infrastructure of our respective regions. As Rail Baltica connects the Baltic countries to Europe and TELT revolutionizes the Lyon-Turin line, our projects play a crucial role in the Trans-European Networks – Transport fostering seamless cross-border connectivity and promoting the efficient movement of goods and passengers,"
said Anrī Leimanis, Chief ESG Officer and Vice-Chairperson of the Management Board at RB Rail AS.
During the meeting on 26 May, representatives from both organizations provided updates on the projects, shared information about the financing systems, including the support from the EU and the involvement of national governments. The role of shadow operators and future railway strategies were also discussed, emphasizing the need for efficient and safe operations.
Additionally, the meeting addressed health and safety measures at construction sites. The significance of having a common management system and the role of both projects in ensuring a secure working environment were recognized. Another important topic was public tenders, with the aim of promoting broad market participation and maximum competition. The discussion focused on informing the market about procurement opportunities and fostering an open and transparent process.
"In Latvia, we are making significant progress in the implementation of Rail Baltica, which includes extensive construction efforts in our future international passenger stations. Our aim is to achieve engineering excellence, international expertise, and the highest standards in health and safety. We take pride in showcasing our accomplishments and are enthusiastic about learning from our colleagues at TELT. The meeting has been productive, serving as a valuable reminder that we face similar challenges in managing megaprojects of this magnitude and significance,"
stated Arnis Staltmanis, a Board member of Eiropas Dzelzceļa līnijas.

"TELT and Rail Baltica are physically connecting Europe with infrastructure and rails – with consistent rail gauge, signalling system, and common standards. We are not just building these links, we are already preparing to put the line into operation, to make it smooth, efficient and sustainable,"
added Lionel Gros, TELT Deputy General Manager.
"We had a chance to visit the construction site of the future Rail Baltica Central Hub in Riga, which, like the future international stations of the Lyon-Turin line, is designed to become a cutting-edge multimodal interchange hub serving the European people's mobility."
The Lyon-Turin line, a high-capacity railway that will stretch over 270 km, primarily in France and Italy, represents an essential part of the Mediterranean Corridor of the TEN-T network. One of its key features is the Mont-Cenis base tunnel, a 57.5 km twin-tube gallery that enables a level-ground crossing of the Alps, reducing travel time, and transportation costs for freight and passengers. This innovative solution ensures higher speed, enhanced safety standards, and reduced energy consumption compared to the existing Fréjus tunnel, built in 1871.
Similarly, the Rail Baltica project aims to connect the Baltic countries with the rest of Europe, addressing the missing link in the corridor and facilitating trade and transport relations. By establishing a modern and efficient railway network, Rail Baltica will contribute to economic growth, regional connectivity, sustainability, and improved military mobility in the Baltic region.
In June 2022, during the Connecting Europe Days event, Rail Baltica joint venture RB Rail AS and TELT, the promoters of the Lyon-Turin line, signed a Memorandum of Cooperation. By signing this memorandum, RB Rail AS and TELT aim to foster a closer relationship, promote knowledge exchange, and capitalize on synergies that can contribute to the successful realization of their visionary railway projects.
www.railbaltica.org