railway-international.com
Written on Modified on
Siemens Mobility Completes South Africa's Largest Ever Signalling Project
The Gauteng re-signalling project, which will help transform rail travel in the province, is the largest to have been awarded in the history of South African railways.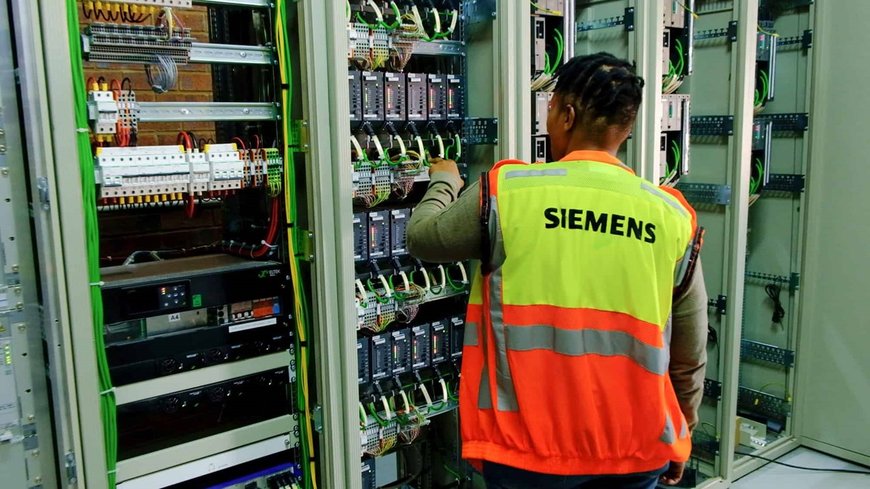 Siemens Mobility has successfully completed the Gauteng re-signalling project, which will enable the Passenger Rail Agency of South Africa (PRASA) to deliver safe, reliable and predictable services for commuters in the province.
The project, the largest in South African railway history also included a PRASA pilot ETCS installation for seven of its stations to ensure the company is ETCS level 2 ready, thus, offering the flexibility to meet future network growth as well as safety through digital based interlocking.
Siemens Mobility replaced the obsolete relay-based signalling, some of which predated World War II, with a new system based on electronic interlocking technology (SICAS S7), complying to Safety Integrity Level-4 (SIL-4).
The new systems mean PRASA has a fully bi-directional system designed for 2.5 minute headways, with the ability to optimise timetable planning, and remote monitoring and fault-finding solutions for technicians.
The resignalling project had two phases:
- Gauteng 1 (G1), awarded in April 2011: the construction of a Gauteng Nerve Centre (GNC) and the re-signalling of 17 stations.
- Gauteng 2 (G2), awarded in March 2014: the construction of a new Central Train Control (CTC) in Germiston, the re-signalling of an additional 72 stations as well as track and overhead traction works to improve flexibility of train operations.
At its peak the Siemens Mobility team delivered two stations per month, whilst managing a project schedule of over 11,000-line items. Together, G1 and G2 catered for the consolidation of 33 decentralised CTC/Signal Cabins into one Gauteng Nerve Centre (GNC) in Kaalfontein with 8 satellite CTCs, which will be used for Business Continuity.
PRASA personnel were fully trained to enable the migration and effectively handle the new technology. This involved 32,202 hours of training to support Train Control Officers (TCO) transitioning from a desk and diagram system to an IT-based SATCOS workstation. On-the-job theoretical and practical training took place over 18 months, with over 4,000 days' training provided to PRASA staff through training centres at Braamfontein and the GNC.
To maximise local content, Siemens Mobility established a supplier development programme, and set up a local assembly and manufacturing facility in Northriding, Johannesburg. Siemens Mobility employed 15 sub-contractors and worked with close to 50 SMMEs, with approximately 20 entities benefiting directly from the enterprise and supplier development programmes.
This all meant Siemens Mobility was able to employ many local people and companies on the route, with the support of councillors, PRASA liaison officers and our contractors. These partners also supported stakeholder relations and community engagement, which were key because the project works passed through many communities along the lines.
Despite the impact of Covid-19, which hit at the height of project delivery and stopped work on site for approximately 3 months, and unprecedent theft from and vandalism to PRASA's infrastructure, the PRASA and Siemens Mobility team reached critical milestones.
Siemens Mobility's South Africa office has now become a global centre of competence – the highly skilled local team support Siemens Mobility projects around the world with interlocking and ETCS work packages.

Kevin Pillay, CEO, Siemens Mobility – South Africa, said:
"We take immense pride in the exceptional teamwork demonstrated by both PRASA and Siemens in completing this complex project. This shows we have the local skills and resources to deliver advanced signalling systems for South Africa.

"We're proud to be PRASA's technology partner and take great satisfaction in transforming rail travel for people in Gauteng, building South Africa's rail sector and contributing positively to communities in Gauteng and the wider economy."
Athanacious Makgamatha PRASA Acting Signal & Telecommunications Manager said:
"The key highlight for me is really the long-anticipated consolidation of the stations we have into one operation, meaning the Centralised Train Control (CTC). It's remarkable that we can embrace new technology like this, especially considering that we come from an era of manual authorization and obsolete technology that we had to battle to repair and maintain.

"The system offers enhanced safety and operational efficiency to our commuters, and we've already seen this on the Mabopane line, achieving a 95% availability and reliability rate. Additionally, the system's security is improved through the reduction of copper, among other things."
Tony Games, Gauteng Stakeholder Manager at PRASA said:

"All PRASA-appointed contractors demonstrated their seriousness in terms of promoting and localising jobs, services and products to local community-based businesses. Stakeholder relations play a pivotal role in ensuring that there is effective and efficient communication between PRASA and all stakeholders, such as the media, communities, community leaders and other interest groups.

"These engagements present PRASA with an opportunity to share first-hand credible information, announce investment initiatives, forge trust, and honestly acknowledge critical challenges facing rail operations. Our focus is on engaging with strategic stakeholders and decision-makers in a proactive manner".
www.mobility.siemens.com