railway-international.com
Written on Modified on
Alstom signs a seven-year operations and maintenance services contract with Newark Liberty International Airport
Alstom will be responsible for 24-hour train operations, maintenance of the vehicle fleet and associated systems.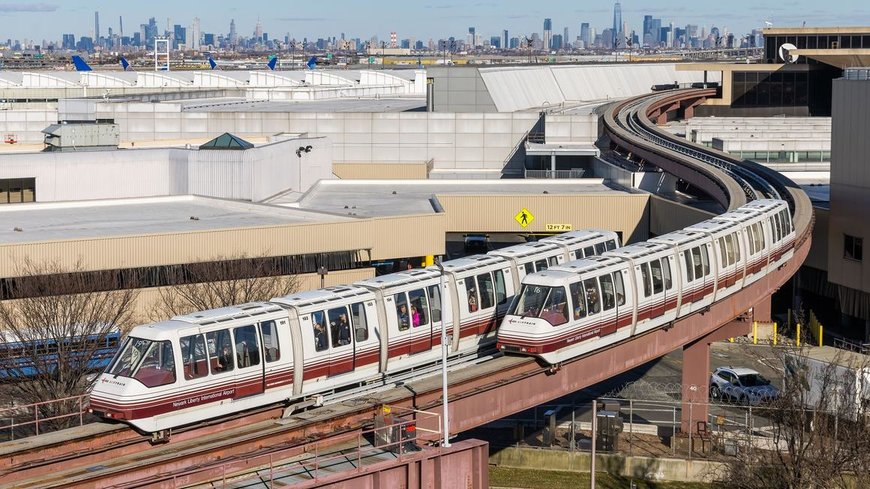 Alstom, global leader in smart and sustainable mobility, has signed a contract with the Port Authority of New York and New Jersey and Newark Liberty International Airport to provide operations and maintenance services for its Innovia monorail system, known as AirTrain Newark, for the next 7 years, until January 2030. The contract is valued at approximately €250 million and includes an option for one additional year.
Under the agreement, Alstom will be responsible for 24-hour train operations and dispatching, maintenance of the vehicle fleet, station doors, guideways, power distribution systems, car wash, signalling system and facilities. The fleet is composed of 15 Innovia monorail trains, of six cars each, serving six stations, including the new Terminal A, along the nearly three miles of elevated guideway. The system not only operates between the airport's terminals but also connects the airport with rental car facilities, hotel shuttles and central parking lots, as well as with with other transit systems and services such as New Jersey Transit and Amtrak. Last year, nearly 10 million passengers rode the AirTrain, with an average daily ridership of around 26,000 travellers and airport employees. To accommodate the high passenger volumes, the system operates 24/7, 365 days a year. Full automation of the system provides improved safety, high reliability, higher capacity with shorter headways between trains, and lower maintenance costs.
"We are proud of our continued partnerships with the Port Authority of New York and New Jersey and with Newark Liberty International Airport,"
said Michael Keroullé, President of Alstom Americas.
"Our industry-leading Innovia airport system has been moving travellers and employees between terminals at Newark Airport safely and reliably since 1996. Building upon the knowledge gathered over more than 25 years and our worldwide leadership of operation and maintenance of automated transit systems, our service delivery team will continue to focus on maintaining the AirTrain Newark's high-performance levels and supporting the best possible passenger mobility experience at the airport."
Alstom Services
With over 50-years of experience and a global system availability of 99.5%, Alstom offers best-in-class system maintenance solutions, covering trains, signalling and railway infrastructure, (track, catenary, power supply and telecommunications), allowing for greater system availability and continuous safe operation of all assets. As the number one private operator in North America, Alstom offers a wide range of state-of-the-art scalable train operation solutions for both passengers and asset owners: from driver support to ticketing, scheduling, and time-table optimisation. The Group operates all types of fleets for Alstom and non-Alstom rolling stock, and offers both fully automated and manual train operations, with train crew and station staff optimisation.
Alstom has more than five decades of experience designing, building, operating and maintaining automated transit systems for airports and cities in North America, Europe, the Middle East, and Asia. In the United States, Alstom supports automated transit systems in Atlanta, Chicago, Dallas/Fort Worth, Denver, Las Vegas, New York, Newark, Orlando, Phoenix, Pittsburgh, Sacramento, San Francisco, Seattle, Miami, Tampa, and Houston. Alstom is also part of the LAX Integrated Express Solutions (LINXS), system under construction at Los Angeles International Airport.
As a mobility technology leader in the U.S., Alstom is committed to not only delivering safe and reliable mobility solutions but to increasing social equity and inclusion within the industry, and as such, works diligently with and develops local supply chains to develop regional economies.
Alstom™ and Innovia™ are protected trademarks of the Alstom Group.
www.alstom.com