railway-international.com
Written on Modified on
STADLER TO SUPPLY NEW LONG-DISTANCE TRAINS TO NORWAY
The Norwegian state-owned railway company Norske tog and Stadler have signed a contract for the manufacture and delivery of 17 FLIRT Nordic Express trains.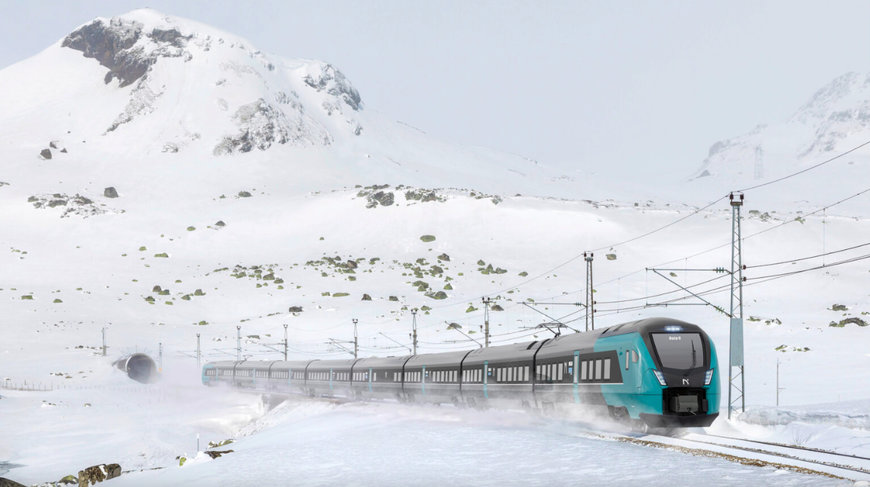 In February, Norske tog announced that the contract for the manufacture and delivery of 17 single-decker multiple units had been awarded to Stadler. The contract, including options, covers in total up to 100 FLIRT Nordic Express trains with an initial order of 17 trains. Thanks to this contract, Stadler will supply the latest generation of long-distance trains for use throughout Norway. The new FLIRT Nordic Express trains are intended for long-distance services throughout Norway from 2026.

When developing the new trains, Stadler placed great emphasis on travel comfort – for both day and night journeys. The FLIRT Nordic Express trains offer seats that are adjustable on both sides, flexible sleeping compartments, bistro and family areas, and ample space for luggage. Passengers can choose between reclining sleeper seats and sleeping compartments with two or four beds. During the day, the sleeping compartments can be converted into private seating areas for families and business travellers alike. The reclining seats can be used both during the day and at night.

The new eight-car trains offer space for up to 542 seats and can reach a maximum speed of 200 km/h. Depending on the area of use, the trains can run on an electric or a bi-modal drive. The latter allows operation even on non-electrified lines.

Like Norske tog's existing FLIRT fleet, the new FLIRT Nordic Express will be manufactured in Switzerland.
www.stadlerrail.com