railway-international.com
Written on Modified on
The Rail Electrification (REAL) Alliance, of which VolkerRail is an alliance partner, has worked in partnership with Northern Powergrid (NPG) to remove four overhead power lines that have spanned the East Coast Main Line (ECML) and Transpennine route from Leeds to Hull (HUL) for over 50 years.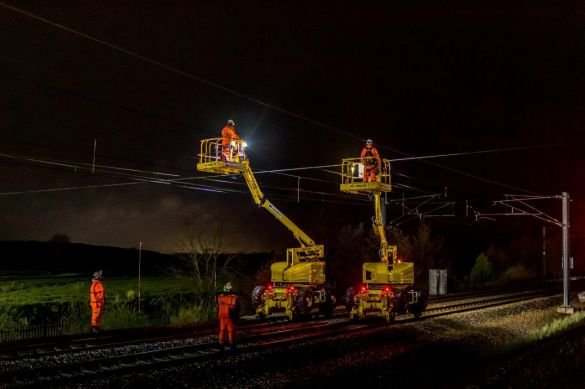 The power lines were removed as part of the ECML Power Supply Upgrade project, which is seeing this historic 393 mile network undergo a major programme of upgrades to its infrastructure and power supply, to enable faster, quieter and more environmentally friendly electric rains to run.
As part of the project, the Alliance is installing new feeder and substations along the route, including a new 132kv connection at Hambleton junction, which required energising.
The work was undertaken in May, and the Alliance assisted with the railway interface and protection of overhead line equipment, as the electricity network operator teams worked through the night to remove the power lines.
Partnership and advanced planning with Northern Powergrid made it possible for the REAL Alliance to manage rail line possession and isolation on the night. The Alliance also provided on track assistance to recover the power lines over the HUL, using MEWPs on the network, to ensure the rope was passed safely over and kept clear of overhead equipment.
Commenting, REAL Alliance manager, Perry Storey, said: "Ensuring the works at this critical juncture was a priority for the Alliance, as without the overhead power lines being down, the overhaul programme for Hambleton's static frequency convertor site couldn't be maintained.
"Both teams, REAL and NPG, integrated the works, with residual risk being managed by the REAL Alliance, to guarantee railway operation assurance and worksite management, ensuring the infrastructure was handed back on time in a fit state.
"The works, although not complex, could have created significant infrastructure damage if not managed appropriately. Thank you to the immediate team for executing the works in a seamless fashion, and the support given from our supply chain."
Commenting, Northern Powergrid's project manager, Phil Dickson, added: "The project clearly illustrated excellent coordination between all parties through the design and delivery phases, which led to the successful removal of the overhead lines in one evening."
The work was delivered safely and successfully within Northern Powergrid's planned network outage time and has enabled a new electricity substation at Hambleton to be energised for customers.
www.volkerrail.com