railway-international.com
Written on Modified on
Transrail Innovation Group News
As Calgary emerges from the pandemic many businesses are showcasing innovation and agility through acquisitions, mergers and strategic partnerships.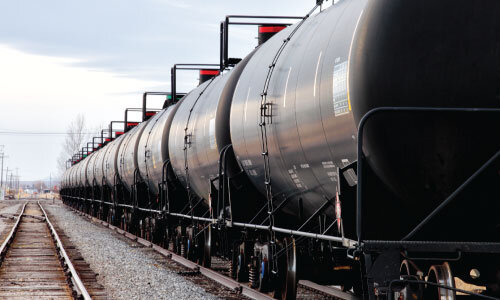 Local company, TransRail Innovation Group (TRIG) is bringing new innovation to Canada's rail industry with the acquisition of Formation Liquids Logistics Ltd. (FLLL).
Marvin Trimble, co-founder of FLLL, now joins TRIG as the Vice President of Rail Technology and Improvement, bringing years of terminal and efficiency expertise. Acquiring FLLL amplifies TRIG's ability to create innovative solutions to help companies ship commodities in more safe and efficient ways. Together, this merger represents a milestone for Canadian innovation in rail shipping technology.
"Bringing FLLL into the TRIG fold allows us to bring new technology and best practices to rail terminals and rail shippers," says Rob Tasker, CEO of TRIG. "Given recent announcements on pipelines, this is an important time to improve the safety and efficiency of rail operations for transporting petroleum products."
Since its inception in 2011, FLLL has grown from consulting seven terminals to over 150, enabling these terminals to reduce operational costs by up to 28 per cent, while at the same time enhancing safety and efficiency. FLLL's interest in encouraging terminals to adopt automation practices was a natural fit with TRIG's innovative technology. Combining TRIG's unique technology and understanding of transloading with FLLL's extensive consulting expertise brings great opportunities for advancement in the railroading industry.
"Rail terminal and shippers have traditionally been slow to embrace digital technology relying on tried and true manual processes and systems, but those trends are evolving," says Marvin Trimble, Vice President of Rail Technology and Improvement for TRIG.
"FLLL has been able to help many operators realize significant improvements in their operations, and in turn safety and profitability. Bringing our talents, which equate to over 100 years of experience- together with TRIG's technology is a winning solution, especially for Canadian petroleum producers."
TRIG is the only electronics manufacturer in North America certified by the Association of American Railroads (AAR) to develop and deploy digital technology that penetrates the closure of rail tank cars.
Their solutions are currently accessible in North America and have proven to help the rail transportation industry mitigate safety risks and unnecessary environmental impacts. With a strong focus on sustainability, TRIG is proud to provide opportunities for clients to reduce the number of rail tank cars in operation and overall emissions by 50 per cent.
www.transrailinnovation.com