railway-international.com
Written on Modified on
Ardanuy Ingenieria will design Colombia's "Caribe" Regional Train
The Bank of Territorial Development, known as Findeter, has awarded Ardanuy Ingenieria S.A. and Coral Delgado y Asociados Abogados the construction study for the new "Caribe" Regional Train which will run through the departments of Bolívar, Atlántico and Magdalena.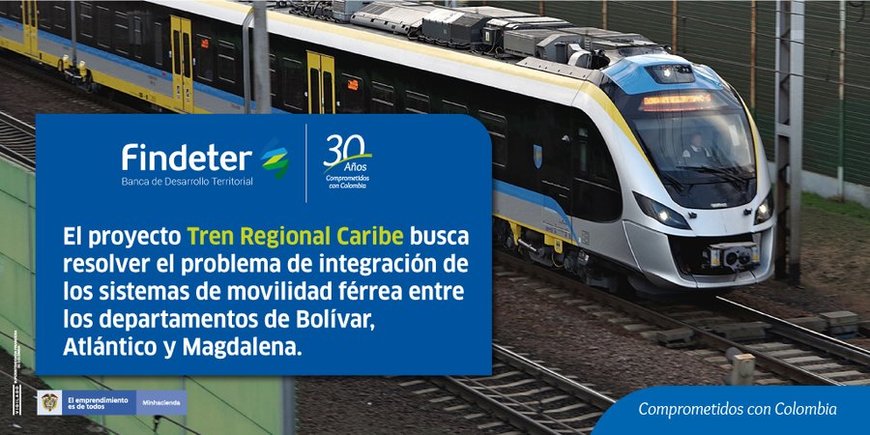 The ultimate goal of the project is to put into operation a commuter line that will connect the main cities of this area. The line will be built for both passenger and freight traffic and its launch will have a significant impact on the coastal region of Colombia.
The Joint Venture, comprised of Ardanuy Ingenieria and Coral Delgado y Asosciados Abogados, will work to carry out the specialized consulting services to select the best alternative for this future rail network. Three different alignment alternatives will be considered when planning the new train infrastructure which has received funding from the Caribe region's administrative and decision-making body, the Órgano Colegiado de Administración y Decisión (OCAD). The first two options, covering a total of 220 and 234 kilometers respectively, but with different alignment characteristics, will begin their journey at the Cartagena terminal station and will conclude its trajectory in the city of Santa Marta where it will connect with the city's current transport system. The third possibility stands out for its planned route which would include connections to the major ports of the region.
Sustainable Infrastructure in Colombia
The infrastructure projects presently being planned aim to improve connections and mobility within the country. These goals are clearly defined in the new "Commitment to Colombia" proposal, a guideline of pledges made by Colombia's president, Iván Duque, meant to reactivate the economy and productivity in this new reality we are living in following the Covid-19 pandemic.
Furthermore, the awarding of this contract takes place at a crucial moment for the development of sustainable transport in the country. At the end of November 2020, the Colombian Government presented its "Master Railway Plan", an ambitious program which places train travel at the center of the country's new investments given its numerous competitive and environmentally friendly advantages compared to other types of transportation. One of these major projects is the "Caribe" Regional Train.
Ardanuy Ingenieria, at the forefront of railway projects in Colombia
The promotion of railway travel in Colombia is supported by different stakeholders in the sector, amongst which include Ardanuy. The Consulting Company, which has offices in Colombia, is an active participant in some of the main railway projects being developed in the country, such as the Regiotram del Norte, the Pacific connection, Orinoquia, in the departments of Valle del Cauca, Tolima and Hulia, as well as the Medellin Metro or the light rail train (LRT) for the Green Corridor in the city of Santiago de Cali.
www.ardanuy.com