railway-international.com
Written on Modified on
GO-AHEAD BAVARIA AWARDS TMH INTERNATIONAL THE MAINTENANCE OF ITS TRAIN FLEET
The rail transport company Go-Ahead Bavaria, based in Augsburg (Germany), and the rail solutions company TMH International (TMHI), based in the Swiss city of Zug, have reached an agreement on cooperation. Go-Ahead Bavaria was commissioned by the BEG and the Baden-Württemberg Ministry of Transport to operate regional train transport from December 2021 to December 2034 in southern Bavaria and in neighbouring Baden-Württemberg; currently 78 electric railcars have been purchased for this. TMHInternational will take over the maintenance of these trains and will build a train maintenance facility in Langweid bei Augsburg for this purpose. This was communicated by both companies in a joint statement.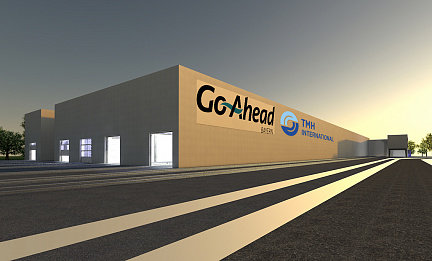 "TMHI is a well-established train maintenance company, who have approached the negotiations constructively and with great enthusiasm. We are very pleased to have them as our partner and we are confident that they will do a great job in delivering the construction of the train maintenance facility as well as the maintenance of our trains,"
said Stephen Head, Head of Fleet of the Go-Ahead Group.

"We are extremely pleased to partner with Go Ahead on this project. TMH International is a newcomer to theGerman market:we are a team of well-known railway experts, and have a long experience in Services, both in life-cycle contracts and in fleet maintenance and repair. As an industrial investor, we are committed to contribute to the economic growth of the Augsburg region, providing a substantial initial investment in the depot and highly skilled and stable jobs
", said Terence Watson, Senior Vice President Europe at TMH International.

"Our global development strategy is based on a partnership approach towards our customers and we are happyto see that this, combined with the flexibility of a specialised international team, has been a real differentiator to win this project"
, added Kirill Lipa, CEO of TMH International.
For the construction of the train maintenance facility in Langweid, Go-Ahead has just received the necessary planning approval. The required land has now been transferred from Go-Ahead to TMHI. It is planned that the maintenance of the trains can take place in Langweid from summer 2022, well before the Augsburg network goes into operation in December 2022. TMHI will temporarily rent and set up a depot in the Augsburg railway park for the maintenance work required before this time.As the building contractor and future operator of the train maintenance facility, TMHI will establish a team for the maintenance of the trains.
"We already started beforehand to build the team, and this is well underway. We plan to hire around 40 managers and technicians. Germany and particularly Bavaria are proud of their long railway tradition and expertise, and we are confident that we will find the right competences here",
commented Terence Watson, Senior Vice President Europe at TMH International.

"Only with an intact and technically trouble-free fleet of vehicles will it be possible to demonstrate the advantages of rail-bound public transport,"
said Jürgen Gilg, Mayor of Langweid.
"We are therefore pleased to be able to help strengthen public transport in the region by means of a plot of land in our municipality, thus securing a piece of public services for our homeland".
The maintenance of railway trains involves the regular technical upkeep of the vehicles. The Go-Ahead Bavaria trains will be travelling many kilometres; many different technical components beyond mere vehicle engineering, such as passenger information systems or vacuum toilets, have to be carefully inspected and serviced so that they can be used daily with minimal defects. The plan is for three to four of these trains to come to the train maintenance facility every day.
The maintenance of the trains will be conducted in full compliance with the latest European regulations for ECMs (Entity in Charge of Maintenance).Within the scope of the current contract, TMHI will provide the light maintenance of the trains, including wheelset reprofiling. It will also perform heavy and corrective maintenance works, including regular overhauls of the main equipment. To ensure maximum availability of the vehicles, two mobile teams will perform the remaining repairs overnight and the 24/7 technical hotline will support Go Ahead staff in operation. In addition to the main responsibility for maintenance, TMHI will also be in charge of the procurement of spare parts, depot management and vehicle maintenance file records.
www.tmh.com