railway-international.com
Written on Modified on
Eole: Bezons' leapfrog comes out of the water
As part of the Eole extension, line E of the Parisian RER, the Bezons flyover is reaching a new milestone.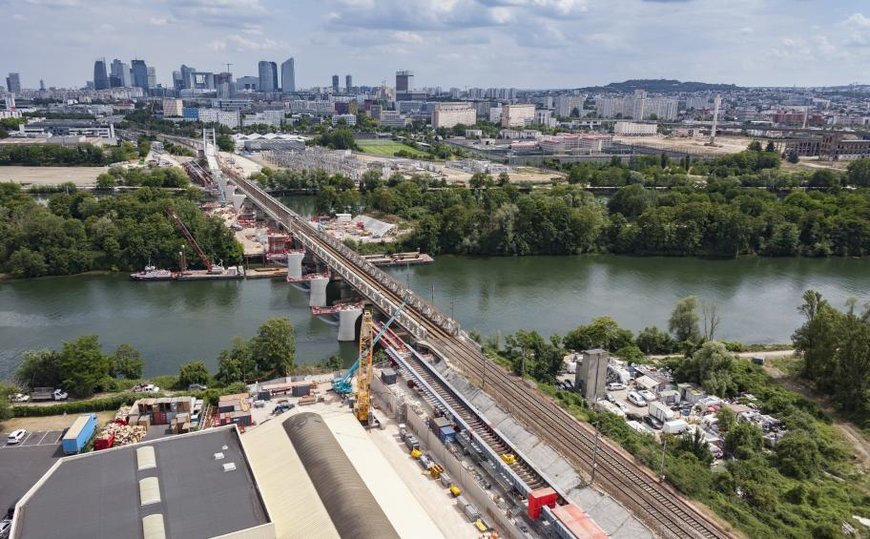 After the completion of the crossing works of the existing rail network and the installation of the bow-string in 2019, work is now continuing over the Seine.

The 9 piles necessary required to cross the two arms of the river and the central island are now completed. The Eiffage Génie Civil and Eiffage Travaux Maritimes et Fluviaux teams are gradually giving way to Eiffage Métal fitters and welders from in charge of assembling the two decks to be built above the Seine:

a 350 m railway deck carrying the new Eole track on the head of the piles,
a 378 m deck to create a pedestrian-cyclist link between the two banks, bearing on imposing metal brackets anchored to the piles.
Both decks are assembled on each bank of the Seine and will be implemented in five launches. The first 2 launches of each deck were carried out during the summer, thus allowing everyone to cross an arm of the Seine. The other ones of around 30 to 100 m will follow one another every month until the first quarter of 2021 before the resumption of civil works.

Ordered by SNCF Réseau, this important structure will be delivered in November 2021.

www.eiffage.com