railway-international.com
Written on Modified on
Mireo Plus decarbonises Europe's railways
One of the reasons railways are the 'greenest' form of transport is that it is relatively easy to power trains by electricity – from overhead catenary or contact rails. However, electrification isn't always viable for regional or local routes, and Siemens has developed a new platform which allows operators to fully decarbonise these operations efficiently and economically – Mireo Plus.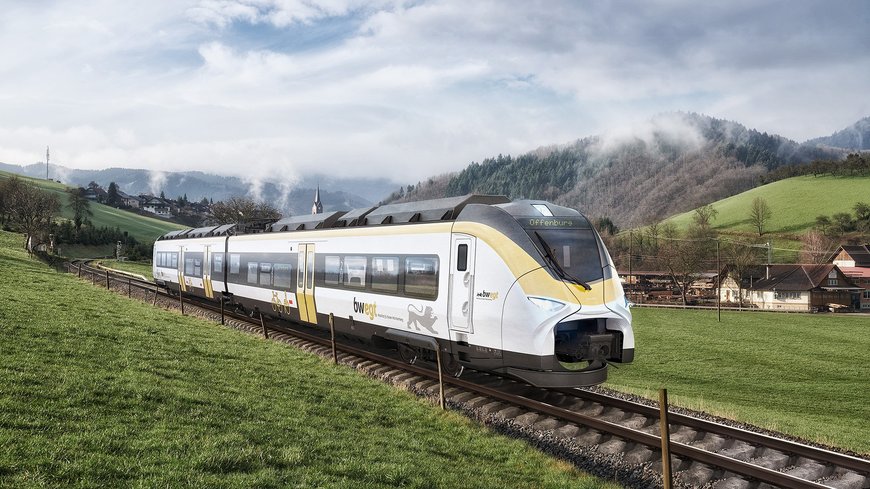 In Germany, only around 50% of routes are electrified. Drawing on its many decades of experience in building electric trains (Siemens was the most important pioneer of them in the 20th century), it has designed Mireo Plus from the ground up to offer flexibility, range and efficiency.
The starting point for Mireo Plus was to offer a design with a modular and scalable traction system integrating fuel cells and batteries to cover the full range of regional and local duties. By using lightweight construction, energy efficient components and intelligent onboard energy management, Mireo Plus consumes up to 25% less energy than its conventional Mireo equivalents. The flexibility is such that a fully hydrogen powered train can be designed for longer distance unelectrified routes, as well as a battery-electric train for those with partial electrification, and any combination in between. Of course, a prerequisite for emissions-free transport is the supply of electricity or hydrogen from renewable energy sources, but assuming this is met, Mireo Plus is 100% emission free.
To achieve this, Siemens has developed a completely new system architecture using next-generation fuel cells and high-performance batteries which offer lower energy consumption, high drive power and thus shorter journeys than diesel equivalents. Mireo Plus offers a complete 'win' for regional and local rail operators.
n battery-electric form, Mireo Plus uses underfloor or roof-mounted batteries to create the Mireo Plus B hybrid vehicle, which draws power from overhead sources and when these are not available uses its battery. A two-car unit has a range of up to 80km and a three-car unit 120km – which in many cases is enough to bridge the gap between electrified sections. The high-performance battery system which includes innovative auxiliary systems such as battery cooling and silicon carbide converter, was bench-tested on a full-scale test bench at RWTH and the Cityjet eco in Austria, with test operation on a real route to validate the system.
For routes which require longer self-propulsion, the Mireo Plus H hydrogen train was created, incorporating a fuel cell system as well as a battery. In this train, the battery acts as a dynamic 'power bank' to compensate for high dynamic loads such as accelerating from a station and to recuperate the braking energy. A two-coach train has a range of up to 800km and a three-coach train up to 1,000km – enough to cover even the longest regional routes in Europe.
The drive of the Mireo Plus H uses two low temperature fuel cells, created in partnership with Ballard Power Systems of Vancouver, Canada. This has been developed specifically for rail applications and offers twice the power density and up to four times the service life compared with fuel cell systems designed for the automotive industry or buses.
Because hydrogen has a lower power density than diesel, Siemens has developed special pressure vessels which make optimum use of the train's clearance profile. They are fully wrapped and made of carbon fibre with non-metallic liners, offering high stiffness and low dead weight, which in turn allow a higher operating pressure than comparable steel containers.
High refuelling speeds are possible, with the tanks filled within aa short time – about the same as a diesel vehicle of comparable range. During the refuelling process, parameters such as temperature and pressure are continuously monitored by each tank and communicated to the filling station to determine the amount of hydrogen required. The fuel cell system has also been tested on RWTH Aachen's full-scale test bench.
For the past two decades, train operators have used driver advisory systems to optimise energy consumption (again, Siemens was a pioneer and systems are in operation in countries such as the United Kingdom), and Mireo Plus takes this a step further. Location recognition means predictive driving is possible, with the train able to recognise performance requirements such as higher acceleration and also likely energy return during braking. This system also includes auxiliary systems such as climate control to optimise energy consumption of all of the train's systems. The next generation of Driver Advisory System creates recommendations for the train's driver based on algorithms of optimal control and predictive control. Such is the combined capability of all of these innovations that a fuel cell train is remarkably energy efficient.
With strict targets set for decarbonising transport, Mireo Plus offers regional and local train operators a fully flexible train which is completely emission free. It is amongst the most important developments in more than two centuries of railway innovation – and is set to enable full e-mobility - whether battery-electric or fuel cell-electric, the latter drawing on Siemens' comprehensive H2 supply chain ability.
www.mobility.siemens.com
Photo credit Siemens