railway-international.com
Written on Modified on
The Network in Transit(ion)
Global Demand for Transportation is on the Rise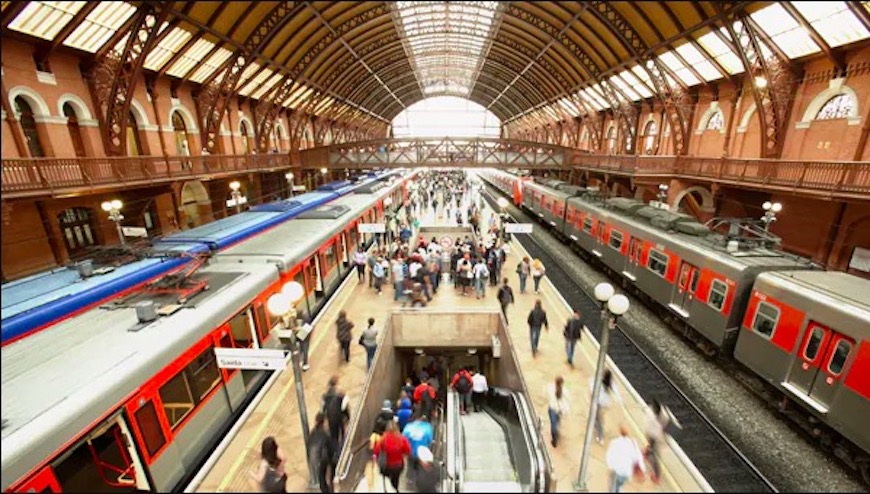 Co-authored by: Kyle Connor, IoT and Transportation Industry Principal, at Cisco &Dani Schrakamp, Global Government Market Manager, at Cisco
The past year turned out to be a success for the rail industry – outperforming the original projected growth rate, rail traffic grew at 2.9 percent for the year with virtually all segments seeing improvement¹. And currently, passenger and freight are slated to more than double activities by 2050². The onslaught of connected devices and the novelty of technology trends like the Internet of Things (IoT) have opened up a new world of possibility to improve productivity, service reliability, accessible mobility, passenger connectivity, and operational cost-savings. However, the answer is still not a simple one. Siloed solutions, overwhelming vendor choice, the often- unmanageable pace of technology change, and evolving security challenges all pose some – yet, not all – very real roadblocks to achieving tangible outcomes through digital transformation.
What Does the Rail Industry Need?
Today, disruption is driving economic growth and opportunity. But organisations are feeling increasingly unsettled about their future as they are in the midst of an already dramatic transformation in the way people and goods move around. Outlook for the future shows more integrated transportation systems that are faster, cheaper, cleaner, and safer than the conceivable options of today. In that, there is one certainty that will remain just as true tomorrow as it does today: the safe and effective movement of people and goods centres critically on foundational infrastructure. Complementary digital infrastructure will be every bit as imperative as roads and bridges.
Organisations that fail to approach networking as an integrated investment are more likely to face significant struggles or succumb to failure. The focus on interoperability to ensure effective connectivity among increasingly interdependent devices and systems will be more critical than ever before with the implementation of complex connected vehicle and automated transportation systems.
With the pace of technological advancements, standards and architectures must similarly continue to evolve and reflect required retrospective compatibility and interoperability. This presents a profound business challenge in which organisations must consider future-proof development for entirely new and currently unknown capabilities. Prudent technology investment will keep doors open to more choice for scalability, competitive and sustainable business viability, and future success.
The beauty – and the challenge – of digital transformation is that no singular technology or vendor can meet all the needs of transportation systems. Implementation and maintenance feasibility, along with highly productive performance of network technologies are strategically important considerations. Failure to properly vet and understand the ramifications of network and communications technology choice can inadvertently lock organisations to a vendor that can impede future flexibility and growth.
One of the most visible and prevalent technology challenges pertains to network and data security. The cyber threat landscape is changing, and attackers are taking full advantage of security teams having difficulty defending both IoT and cloud-based environments. In fact, a majority of countries and regional groups expect to see, or have already experienced, cyber-attacks that extend beyond IT into OT³. The implementation of security programs and system architectures must be guided by internationally recognised regulatory standards to ensure the trustworthiness of the growing numbers of connected devices that drive today's critical transportation infrastructures. Adherence to compliance will promote comprehensive cybersecurity efforts to properly assess potential vulnerabilities, implement protective and proactive defence measures, and recruit and train specialised staff.
These trends are redefining the railway industry. How organisations respond to these opportunities and challenges will determine whether the sector remains reliable and sustainable for the foreseeable future.
Moving the World Forward
Currently, industry best practices feature fragmented networks and siloed solutions. At Cisco, we see our customers wanting more and more to move away from isolated solutions to a single multiservice architecture approach that supports all their goals and desired outcomes. And there is no denying a different approach is needed to address the growing number of connected services, systems, devices, and their mountainous volumes of data. Intent-based networking and secure IoT solutions for transportation answer that call to action.
An intent-based multiservice network can deliver diverse use cases all while treating network traffic differently based on data and service priority. Using software-defined access, a single, physical network infrastructure can be securely shared and segmented into multiple virtual networks on a per-service basis or as needed by department. Each respective network hosts its own policies, service characteristics, and security needs, which enables consistency for simplified management. By building business and IT goals through this intent capture, organisations play a more strategic role in nurturing their day-to-day productivity, innovative development, and future growth. This allows IT to move on from acting as the intermediary and allows for automation to fine- tune the network to ensure that it meets the needs of organisations both today and as they evolve in the future. As applications, data, and user identities move to the cloud, security teams must manage the risk involved in losing control of the traditional network perimeter. Automated service segmentation works to continuously verify network users and traffic to give unprecedented insights that help to simplify complex security practices. While uniform policy deployment enables critical resiliency and redundancy of the network, the integrated approach allows for the scope, scale, and reliability to outpace evolving cyber threats.
With present and future challenges in mind, a new multiservice connectivity approach allows for the flexibility of technology choice. Open standards using varying connectivity options, whether they be MPLS, fiber, or 5G will support multiple access technologies and meet the needs across transportation use cases. The modularity of an intent-based multiservice network allows for plug-and-play deployment so that customers can adopt what they need, where and when they need it simply and efficiently. In line with IT's growing need for a more dynamic and efficient infrastructure, networking and communication technologies will adapt with changes and evolving goals. Shared infrastructure across departments, public services, and smart solutions offsets the burden of cost for more attainable and sustainable growth. This safety net of future assurance will give organisations the confidence to expand their networks and focus on delivering tangible outcomes for their businesses.
The Big Picture
The thoughts captured here are illustrative and not meant to be exhaustive. However, it is clear that the network has never been a more critical enabler of new technologies. Networking is at the centre of connecting to the cloud, supporting the rise of the mobile revolution, and leading to a world made up of an Internet of Things. You will not be alone in pursuing success by opting into these new opportunities. Many players are already making their moves. Success will require significant transformation of business models and IT systems alike. The future need not take the rail industry by surprise, however. Between where you're going and where you want to be, there's a bridge.