railway-international.com
Written on Modified on
Revolutionary Maintenance Machine for Overhead Lines Passes the Ultimate Endurance Test
The revolutionary Plasser & Theurer maintenance machine for overhead lines, the HTW 100 E³, passed the ultimate endurance test in the Climate Wind Channel of Rail Tec Arsenal (RTA) with distinction.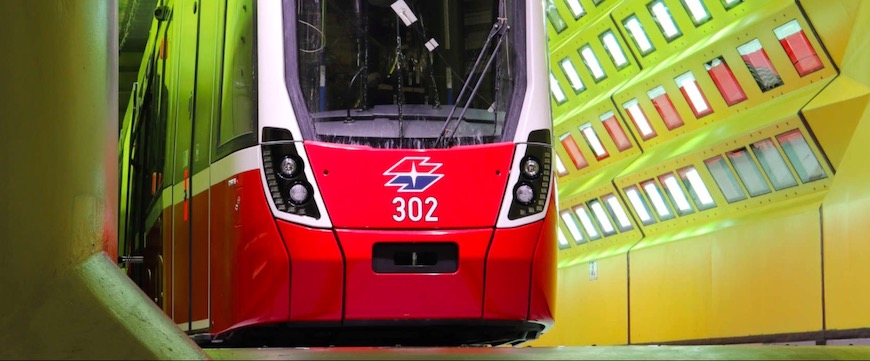 The main focus of the test was placed on the innovative battery system of the HTW 100 E³.
Revolutionary Maintenance Machine for Overhead Lines
The heart of the HTW 100 E³, used for maintaining overhead lines, is the innovative battery system. It allows the machine to work electrically on the work site and makes it emission-free and quiet. Particularly in urban environments or tunnels, this is a great benefit. The battery capacity lasts for two six-hour shifts. The operating temperature is crucial for the batteries' service life. In collaboration with Kreisel Electric, an expert in electromobility, a sophisticated thermal management system was developed for the HTW 100 E³.
The Secret Behind the Thermal Management System
At a cell temperature of between -20 °C and +40 °C it is ensured that the batteries generate energy. The optimum operating temperature is between +25 °C and + 35 °C. Siegfried Anschuber, Software Developer at Kreisel Electric, explains the system:
The nine batteries are fitted with more than 200 sensors that measure the temperature constantly. The new thermal management allows maintaining a permissible operating temperature by warming or cooling the batteries. As a result, external conditions barely affect us anymore. And: When a machine is parked at -20 °C, the next day, the batteries are heated up via the heat pump.
Simulating Travelling Speeds
During testing in the Climate Wind Channel, these temperature limits were simulated and numerous machine functions were tested, ranging from the windscreen heating to the cabin door. The computer recorded any even minor change in temperature or humidity and any performance and pressure curve live via specially installed measuring sensors.
Andreas Rosenkranz, Project Manager at RTA, added:
RTA, the operator of the Climate Wind Channel in Vienna, offers the possibility to examine the effect the weather has on machines and components under realistic conditions. Different temperatures and diverse forms of precipitation can be generated and wind speed simulates travelling speeds.
Conclusion
Therefore, testing had been important to collect the information required to draw conclusions: How long does preheating take using a diesel-powered heating device at a temperature of -30 °C? What level of energy output is required to allow the individual components to run at full performance?
To find out, the HTW 100 E³ was equipped with more than 20 sensors prior to testing. It took three days to prepare the machine, and four days to simulate the predefined scenarios.
Weitersberger explains:
We aim to provide our customers with operational data that meets the needs of practical operation even more precisely. We will include the results into our documentation.
Even though nature might spare us from changes of 80 °C, the HTW 100 E³ works under extreme conditions. It has passed the ultimate endurance test.