railway-international.com
Written on Modified on
Reliable precision transducers for high voltages and current in rail applications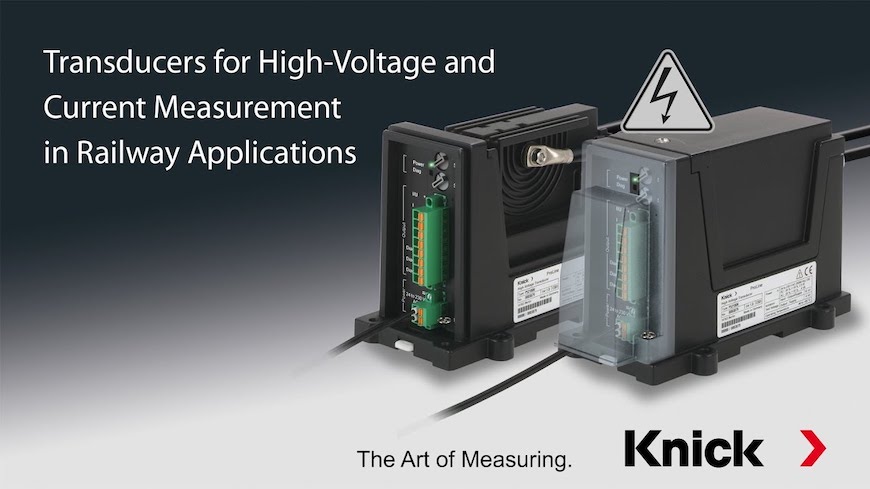 Due to the liberalization of the rolling stock market, more and more companies use the existing rail infrastructure. Trains are therefore equipped with energy measurement systems to track the power consumption of different operators and enable transparent billing. However, without reliable, highly accurate transducers, energy consumption data can only be of limited use. Developed especially for precise measurements on rolling stock, the EN-50463-compliant current and voltage sensors from Knick's ProLine P 50000 series provide the basis for accurate power consumption accounting. The devices are used in protection and monitoring equipment, traction inverters, and auxiliary converters. In addition to current and voltage measurement, they are also used to detect short circuits. The 3-port isolation that is characteristic for Knick transducers completely rules out measuring errors that might otherwise occur due to a galvanic connection of output signal and auxiliary power supply. Moreover, the devices continuously monitor themselves, indicating their status via a diagnostic output. All P 50000 units can be integrated into existing system environments without additional effort, since they transmit measured values as floating analog 0/4…20 mA or 0…10 V standard signals.
Maximum flexibility and safety are ensured by the integrated power supply for all voltages typical for the rail sector and by a comprehensive touch protection, which includes the input terminals. This ProLine transducer range comprises special-feature models such as the P 51000 current transducer that provides overload-proof detection of currents in the kA range via a shunt resistor. With this device, not even strong electromagnetic fields influence the measurement result. For precise detection of nominal voltages commonly used in rail applications (750, 1500, 3000 V DC), the ProLine P 50000 series also offers the very compact P 52000 transducer that is notable for safe encapsulation of high-voltage contacts and connections. This ensures there will be no dangerous mutual interference around other components. This transducer can therefore be installed without observing specific safety distances.
The ProLine P 50000 range devices meet all normative requirements for use on rolling stock and in traction power substations according to EN 50155, EN 50124, and EN 50123-1. They feature EMC according to EN 50121-1 and EN 501-3-2 and fire protection up to hazard level HL3 according to EN 45545-2 (2016). The devices resist vibration and shock according to EN 61373. They are temperature classified as TX (-40 °C…85 °C) according to EN 50155/EN 50121-1, and altitude classified as AX according to EN 50155. They provide protective separation through reinforced insulation up to pollution degree 3 and over-voltage category 3. They feature protective covers that comply with EN 50153. P 50000 transducers achieve an MTBF (mean time between failures) of 155 years. Knick provides a five-year warranty on the devices.
About Knick
Founded by engineer Ulrich Knick in Berlin more than 70 years ago, Knick Elektronische Messgeräte GmbH & Co. KG still uphold the family company tradition today. The innovative enterprise manufactures measuring and monitoring devices for the chemical industry, system engineering, and industrial automation.
Knick Elektronische Messgeräte GmbH & Co. KG
Beuckestr. 22
14163 Berlin
Germany
Tel.: +49 30 80191-0
Email: This email address is being protected from spambots. You need JavaScript enabled to view it.
Web: www.knick.de