railway-international.com
Written on Modified on
Hungarian Railways Gets Its First Stadler KISS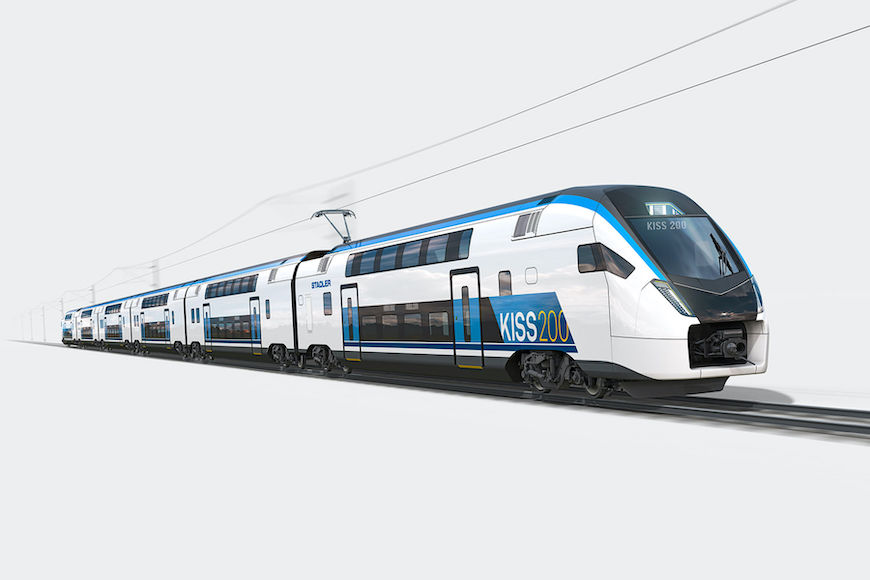 Stadler and Hungarian state railway company MÁV ceremoniously celebrated the roll-out of the first new KISS train. The train will now undergo the necessary testing before it can enter commercial service. The date set for this is from February 2020 onwards for both this train and ten additional units. The trains will run on the suburban railway lines between Budapest and Vác (north of the capital) and Budapest and Cegléd (southeast of the capital). MÁV ordered these eleven trains in 2017. The order was part of a framework agreement for a total of 40 KISS double-decker EMUs.
In December 2018 then MÁV exercised an option for a further eight double-decker trains, which Stadler says should arrive at the start of 2021. This brings the total number of KISS trains MÁV has ordered to 19 out of 40.
The arrival of the new trains will open a new chapter in passenger transport on Hungarian Railways with faster and higher-capacity rail travel in the country.
50 Percent More Capacity
At 155.88 meters long, 2.8 meters wide and 4.6 meters high the units will consist of six double decker coaches for up to 600 seated passengers. Compared to a single-decker train of the same length, that is a 50 percent increase.
Equipped with four toilets, one of them accessible for people with reduced mobility, there is also space for four wheelchairs, twelve bicycles or five strollers.
Train Control
Designed according to the latest safety standards they will be equipped with EVM (a Hungary-specific train protection system) and ETCS Level 2 train control, giving them the capability of speeds up to 160km/h on Hungary's upgraded railway lines.
Better Passenger Comfort
Passenger comfort is also at the forefront of the design. The trains feature a spacious interior, air-conditioning, smooth running, a state-of-the-art passenger information system and onboard free WiFi.
Stadler received the first order for the KISS double-deckers from SBB in 2008. Since then several TOCS in various countries across Europe have ordered KISS rolling stock. It will shortly take to the rails in the USA too.
railway-news.com