railway-international.com
Written on Modified on
Delta Electronics Subsidiary LOYTEC Wins the LUX Awards 2016 with Intelligent Lighting System
Delta Electronics' subsidiary LOYTEC electronics GmbH (hereinafter referred to as LOYTEC) has won the LUX Awards 2016 in the category "Industrial and Transport Lighting Project of the Year" from over 200 nominations with its DALI Lighting System (L-DALI) at Manchester Airport in the United Kingdom. The international jury awarded LOYTEC's Manchester Airport project, which implements a modern DALI lighting system with constant light control, presence detection and monitoring of energy consumption. Combining the replacement of existing luminaires to a full LED solution, with energy reduction of up to 89%, LOYTEC demonstrated what intelligent building management systems can achieve in terms of energy efficiency.
Mr. Mark Ko, vice chairman of Delta Electronics, stated, "In recent years, Delta has spared no effort to promote building energy efficiency and actively develop the global building automation market. Our milestone projects not only include those in the European and American regions, such as the installations at the Manchester Airport, but also large-scaled integration cases in China, like the Ningbo Hontai Plaza, Zhaoqing Intercity Railway Station, and others. This award confirms the technical strength of Delta's energy conservation in buildings, and also encourages us to move towards a smarter and more energy-efficient future."
The project included the installation of DALI occupancy/daylight sensors in all areas, coupled with field intelligent processors that shed lighting loads when areas were unoccupied. By introducing this level of automation further energy reductions are achieved by utilizing natural daylight. LOYTEC's lighting control solution provides not only a fully dynamic lighting control solution, but also a full system monitoring of energy consumption. The web-based system is designed with open protocol solutions BACnet and DALI, and also incorporates complete flexibility for any future expansion. The results are impressive. After replacing the existing luminaires with a full LED solution & L-DALI control system, Manchester Airport reduced energy use by up to 89%, the equivalent of 7 GWh of electricity a year.
Since 2013, the LOYTEC Competence Center Calon in cooperation with the company Building Environment Controls has integrated a modern DALI lighting system with constant light control and occupancy detection at Manchester Airport's Terminal 2. The lighting control solution in subsequent project stages has been extended to the public areas of the airport terminals T1 and T3. In 2014 following successful trials, the BMS system was linked to Manchester Airport's CHROMA flight information system, which provides further energy savings with the use of dynamic scheduling. Lighting setpoint levels are now adjusted based on real time flight movements, which further maximize lighting savings.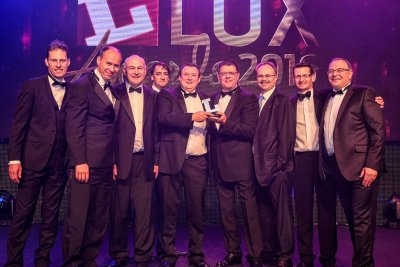 The LUX Awards is hosted by Lux magazine, which recognizes the best lighting products, projects and companies leading innovation and change. With over 10,000 readers in Europe, Lux magazine, the official publication of the Lighting Industry Association, is authoritative and accessible, keeping the lighting industry up to date and helping lighting users get the best results.
LOYTEC was founded in Austria in 1999. In April of 2016, LOYTEC became a subsidiary of Delta Electronics, a leading power and thermal management provider. LOYTEC currently ranks among the leading European providers of highly innovative building management and control solutions integrating HVAC control, room automation, lighting control, sunblind control and energy monitoring. Recent large-scale integration cases include the Ningbo Hontai Plaza and Zhaoqing Intercity Railway Station in China, and commercial buildings in Europe such as the ParkLake Shopping Center and OBI Market in Nuremberg, Germany.