railway-international.com
Written on Modified on
British steel wins major german rail contract
British Steel has secured a major German rail contract after enhancing its manufacturing capabilities with a seven-figure investment.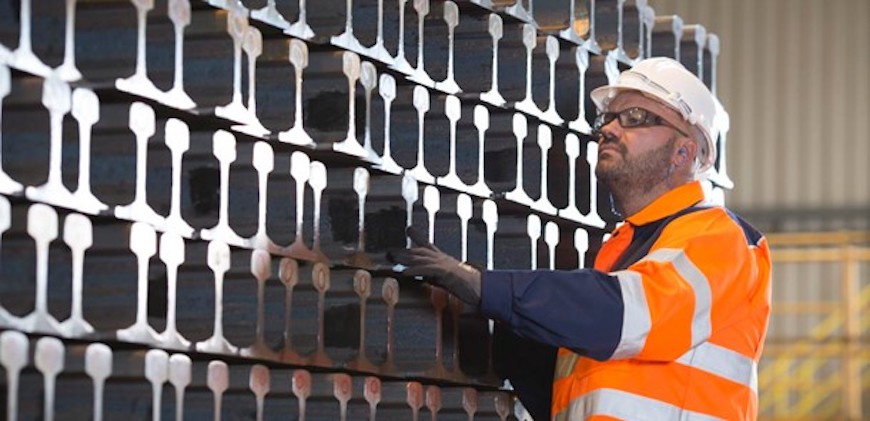 The deal will see the company deliver around 20,000 tonnes of 120 metre rail a year to Deutsche Bahn, Europe's largest purchaser of rail.
It comes after the company spent £1 million enhancing its Scunthorpe Rail and Section Mill so it could manufacture this longer-length rail.
As well as the Deutsche Bahn agreement, the new 120 metre rail capability allows improved competiveness for British Steel in the wider European market.
Peter Smith, British Steel Managing Director Rail, said: "Supplying a new product to a major railway company like Deutsche Bahn is a significant achievement and demonstrates our commitment to product and service innovation.
"It also shows how increasing our product range can help us enter new markets, and how we can work in partnership with customers to become the strategic supply chain partner of choice.
"While we've worked with Deutsche Bahn in the past, this is the first contract we've been awarded by them as British Steel and we hope this is the start of a long-term relationship between our businesses."
Before the investment, the longest rail British Steel could produce was 108 metres – a standard length in the domestic market. However, many European rail networks are based on lengths of 60 and 120 metres.
While some European customers accept 60m lengths, that can be welded into 120m, most would prefer to minimise the number of welds and so they favour 120m rolled length.
Peter said: "Our technical teams continue to deliver longer in-service product life along with reduced maintenance and renewal costs, bringing significant benefits to our customers.
"Deutsche Bahn is by far the biggest purchaser of rail in Europe. Having a stake in the German market is strategically important to us and we hope to build a strong and lasting relationship with them.
"The investment allows us to remain at the forefront of rail production and act as a catalyst for further long-length rail exports into Europe."
British Steel supplies rail across the globe from its rolling mills in Scunthorpe and Hayange. It's also established a successful rail logistics hub in Lecco, northern Italy.
The initial contract is for 21 months and will see the new 120 metre length rails delivered to Germany through the Channel Tunnel. The requirement for shorter lengths such as 60 metres will be satisfied using the flexibility of both mills.
The first 120 metre shipment is due in March and Peter said: "Our engineering and development teams have performed an excellent job in expanding our manufacturing capabilities, ensuring our rail products and grades can continue being precisely matched to track conditions, track types, environmental conditions and a host of other variables.
"This ensures every rail we deliver provides optimum performance throughout its life, guaranteeing our customers – and their customers – a first class service."
About British Steel
British Steel was formed in June 2016 by Greybull Capital. While we're proud of our heritage, we're just as passionate about building stronger futures for our employees, customers, suppliers and local communities.
Internationally, we want to be a competitive exporter and the right strategic business partner. Nationally we want to be the champion in our chosen markets – recognised as the centre of competence for steelmaking and the partner of choice. And locally, through positive engagement, we want to become a leader of business and community re-development in the areas in which we operate.
Our steel helps people travel, work, eat and socialise every day. It has been, and continues to be, fundamental in creating iconic, awe-inspiring structures around the world. More importantly, it helps keep us safe.
We produce more than 2.8 million tonnes of steel every year. From this, we manufacture more than 1,450 different specifications of steel that is rolled into wire rod, sections, special profiles, rail, bloom and slab. We employ 4,800 people (4,400 in the UK, 400 in France) and our facilities include:
• Scunthorpe integrated steelworks
• Teesside Beam Mill, Lackenby
• Special Profiles, Skinningrove
• Hayange Rail Mill, north east France
• Immingham Bulk Terminal (port terminal)
• Redcar Bulk Terminal (port terminal)
• FNsteel, Netherlands
• Rail logistics hub, Lecco, Italy
• Engineering business, Workington
• National design consultancy
• Associated distribution facilities in the UK and Ireland
• International sales offices including USA, Singapore, France, Spain and Germany