railway-international.com
Written on Modified on
ŠKODA GROUP TO DELIVER 15 MORE TRAMS TO BRNO CITY TRANSPORT COMPANY
The obsolete KT8 types from the turn of the 80s and 90s will be replaced by 15 ForCity Smart 45T trams.
The fleet of Brno trams is about to undergo another significant step in modernisation. The new trams will be purchased by the Brno City Transport Company (DPMB) from the manufacturer, Škoda Group, by partially using the option under the existing contract. The first five trams out of fifteen will arrive in Brno next year, the rest in 2025. DPMB can order another twenty trams of the same type under the option.
Modern vehicles for modern cities

The ForCity Smart 45T tram is a two-way, low-floor, three-part vehicle with a swivel chassis. Reliable driving characteristics, even in adverse weather conditions, are ensured by full vehicle adhesion. This 31-metre tram comfortably accommodates up to 233 passengers, of which 64 are seated. The maximum operating speed is 70 km/h. There is air conditioning and two large multifunctional spaces for wheelchairs, prams, or bicycles. The new tram also offers a modern, clear information system with screens and panels. To ensure safety, the vehicle is equipped with a camera system.
The new tram has a spacious, air-conditioned interior equipped with stainless steel handrails, widescreen LCD information monitors, and USB chargers. The RIS2 control and information system, or EOC2 validators are also included. For transporting multiple wheelchair users, the tram has a total of four tilting platforms. The vehicle is also equipped with an external and internal camera system and partially tinted side windows.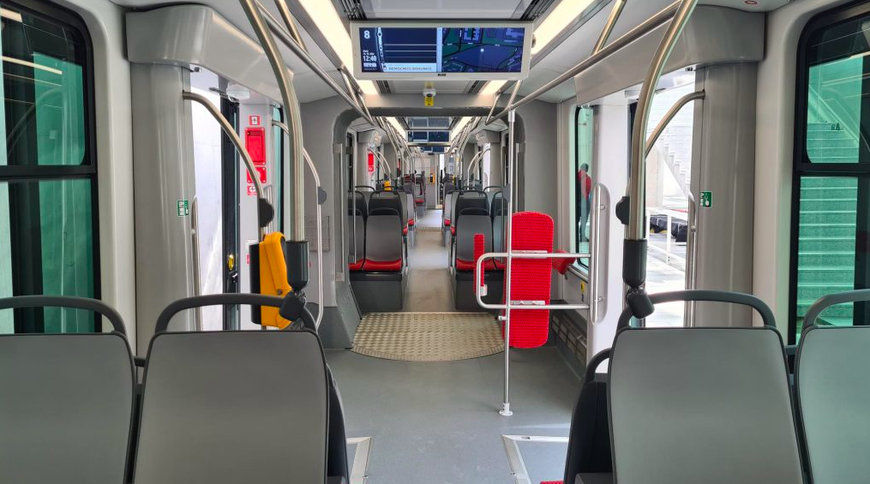 The driver's cabin has been newly redesigned. In addition to the clear panel, where the emphasis is on simplicity and good visibility, the controls are partly implemented directly in the driver's seat. The windscreens are equipped with heating, and the front windscreen has daytime running lights. The electrical equipment allows for regeneration, i.e., the return of electricity to the grid when braking, which reduces the overall consumption of the vehicle and thus the operating costs.
www.skodagroup.com