railway-international.com
Written on Modified on
ROBOTS REPAIR RAILWAY TRACKS
Robel Rail Automation uses FANUC robots for infrastructure maintenance work.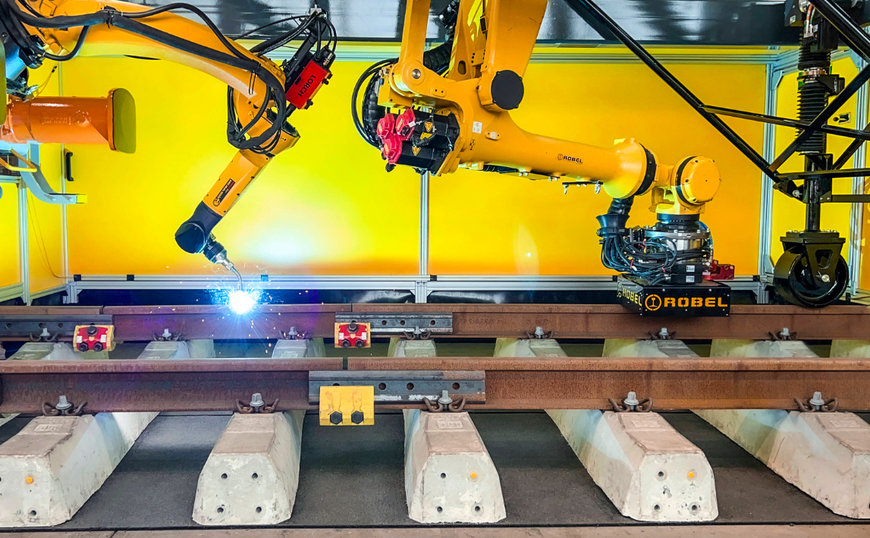 Many consider European rail networks to be in urgent need of renovation. However, help could soon be at hand thanks to the development of an innovative robot system that is capable of repairing rails and points. Designed and manufactured by Robel Rail Automation from Bavaria, Germany, a specialist in the maintenance of rail infrastructure, the system leverages the benefits of FANUC industrial robots.

In terms of configuration, the system features a rail-traversing wagon mounted by two FANUC robots. The robots detect internal and external defects, and perform fully automatic repairs using welding, milling and grinding processes. European railway networks are already running the first prototype systems, with full commercial availability anticipated in two to three years.

"We are seeing high demand from our customers for fully automated, robot-assisted maintenance systems," says Thomas Weis, Head of Development at Robel Rail Automation. This is especially true for the time-consuming and complicated repair work of points. Here, rail network operators are increasingly lacking skilled workers such as welders.

The Robel Rail Automation System carries out continuous maintenance work safely and in a resource-saving manner. In addition, the use of FANUC robots ensures consistent and well-documented work quality, supported by wagon-mounted ultrasound equipment, eddy current measuring systems and a camera system.

"In this way, we exclude damage that is not visible to the naked eye and make measurement and process data available to our customers digitally," explains Weis.

Ralf Völlinger, General Manager Robotics at FANUC Europe, adds that he is optimistic about the future use of robots for infrastructure maintenance: "There is a lot of need for modernisation in both the rail and road networks. Robots can help to complete lengthy maintenance projects more quickly by taking over repetitive work and thus at least partially compensate for the growing labour shortage."
www.fanuc.eu