railway-international.com
Written on Modified on
Alstom and the Cracow University of Technology sign a strategic partnership to strengthen students' competence in rail traffic control
The agreement will benefit up to 10,000 students every year, by allowing cooperation in the area of rail traffic control.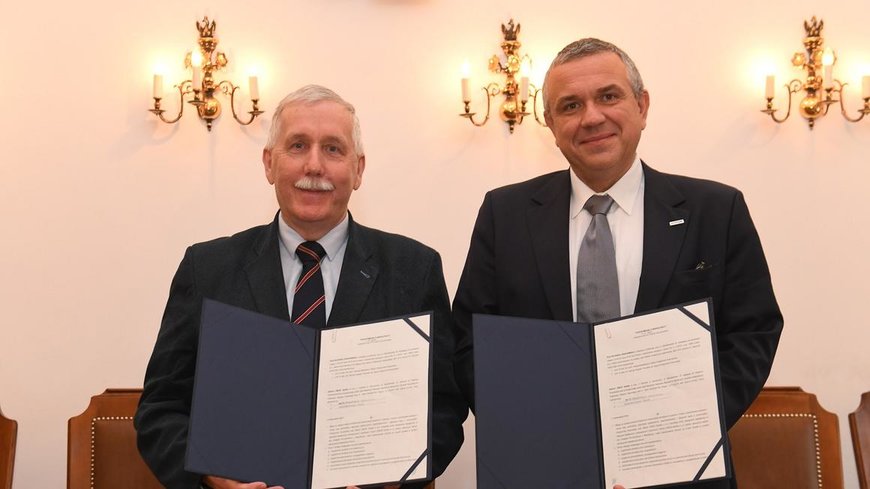 Alstom, global leader in smart and sustainable mobility, has signed a strategic partnership with the Cracow University of Technology in Poland. This agreement, which will potentially benefit up to 10,000 students every year, will facilitate cooperation in conducting research work and employing graduates, as well as promoting achievements related to the development of modern rail traffic control systems. The cooperation will feature constant exchange of knowledge, experience, and competence in this area, as well as internships offered to students wishing to further strengthen their expertise in the industry.
As part of its teaching and research activities, Alstom will organise courses at Cracow University of Technology related to the subject of rail traffic control, for university, doctoral and postgraduate students. Alstom experts will participate in open lectures, discussion circles and will carry out research together with the Cracow University of Technology faculty.
"Our cooperation with the Cracow University of Technology will allow us to develop the competencies related to the design and implementation of modern rail traffic control systems within students and graduates of technical, IT and engineering studies. This is a fascinating, extremely future-oriented and attractive field of knowledge, essential for sustainable mobility in which Alstom is a global leader. At Alstom, we combine more than a century of tradition with the latest innovations and worldwide opportunities for professional and scientific development,"
says Adam Juretko, Managing Director of Alstom ZWUS Sp.z o.o.
"In cooperation with Alstom, a world leader in technical solutions for the railway industry, the Cracow University of Technology will carry out activities in the areas of teaching and scientific research. Both parties will benefit from these activities. Thanks to a better understanding of the needs of a company with a global brand, we will be able to develop and improve the university's educational offer, especially in the area of training qualified engineering staff for the railroad industry within the framework of the dual specialisation "rail vehicle engineering" already conducted at the Cracow University of Technology. The opportunity for internships or apprenticeships at Alstom is a unique chance for our students to learn from the best. The collaboration between our scientists and the company's experts will give both sides the possibility of mutual substantial support and will be an opportunity to implement joint development projects,"
says Professor Andrzej Białkiewicz, Director of the Cracow University of Technology.
Currently, 14,000 Polish and foreign students along with doctoral candidates are being trained at eight faculties of the Cracow University of Technology and in more than 30 fields of study. The trainings will focus on the Railway Transport Faculty, including 4,200 newly enrolled students in first and second level studies.
Alstom has been developing cooperation with universities in the area of modern rail traffic control systems for many years. The combination of university studies with work experience allows students to significantly shorten the process of implementation in the projects completed by the company. Since 2014, Alstom has been running - together with the Department of Transportation and Aeronautical Engineering and the Department of Automatic Control Electronics and Computer Science at the Silesian University of Technology - courses in the design of safe systems and dependency systems, which are extremely popular among graduates and engineering students. Among the 280 students trained, about 90 have decided to continue their careers at Alstom.
Alstom is also involved in organising several other teaching activities at various faculties of the Silesian University of Technology, related to electrical engineering or software, among others. The company has also donated specialised Centralized Traffic Control (CTC) software to the university. Students from all over the world who study at the Silesian University of Technology can do a year-long internship and apprenticeship at Alstom, thus strengthening their competencies in accordance with their field of study and individual interests.
www.alstom.com