railway-international.com
Written on Modified on
ALSTOM'S TGV M LAUNCHES ITS FIRST DYNAMIC TESTS IN THE CZECH REPUBLIC
Since December 7, 2022, the first TGV M test train, from Alstom's Avelia Horizon range, has been at the Velim test site in the Czech Republic. This test campaign will last almost 6 months and is part of a long series of tests for this new generation of High-Speed Trains.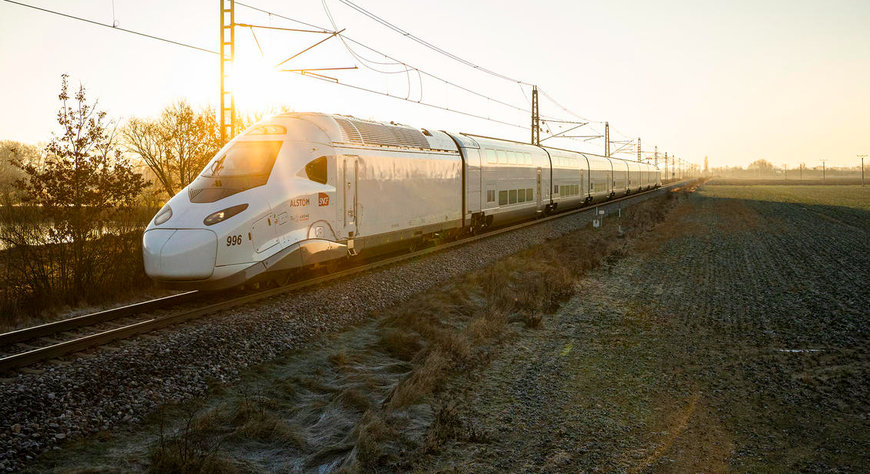 Decisive test campaigns for the admission of the train and its reliability
The TGV M test programme consists of the following phases:

1. Static and quasi-static testing: Each piece of equipment on the train was first assessed separately to validate its own performance and service life. Then, once assembled, the test train was tested at Alstom's Bellevue site (in France) at a standstill and then at a speed not exceeding 30 km/h.

2. Pre-validation testing: The objectives of pre-validation tests are: validating the overall operation of the train, removing the risks that appeared during the design phase in relation to the regulatory requirements, and adjusting the digital modelling.

3. Admission tests: This consists of testing the operation by reproducing the configurations and contexts that the train may encounter throughout its entire life (degraded modes, weather conditions, obstacles on the network, etc.).

4. Endurance tests: Over a long period prior to commercial operation, several trainsets will run throughout the French national network to test the reliability of the train under real operating conditions.

At the end of all these tests, the TGV M will have benefited from a total of 350 weeks of testing and will have covered more than a million kilometres before the first customer experiences the high-speed train of tomorrow.

6 months of tests in Velim before joining the French railway network
Pre-validation tests needed for the dynamic development of the TGV M are currently being carried out at Velim by Alstom with the support of the Test Agency of the 'SNCF Voyageurs' Equipment Engineering Department.

Next steps
Climatic tests in Vienna in early March over a temperature range of -20°C to +40°C
Tests on the National French Railway Network in Spring 2023
Higher capacity, more ecological, better connectivity, better accessibility
115 units have been ordered to date (100 domestic and 15 international trainsets). The TGV M will be used for both the INOUI and OUIGO TGV services and is characterised by major innovations.