railway-international.com
Written on Modified on
Finnish railways will receive new sleeping coaches and freight wagons for cars from Škoda Group
Finnish state railway company VR Group has ordered nine sleeping coaches and eight freight wagons for cars from Škoda Group.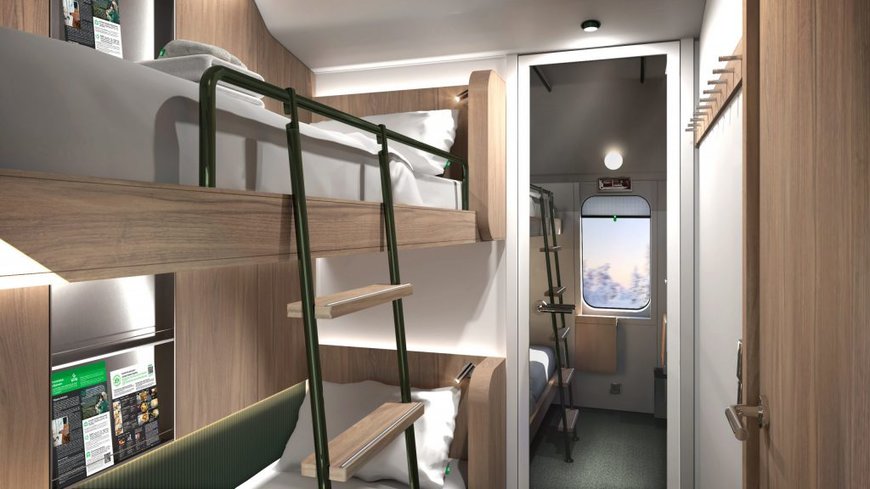 The worth of the contract is EUR 50 million and trains will be produced at the Finnish production site of Škoda Group in Otanmäki. They will be put into service by the end of 2025. The contract also includes an option to purchase an additional 30 sleeping coaches and 30 freight wagons for cars.
Night train transport is growing in popularity in Finland. The new train cars will complement the VR Group's existing fleet of night trains and thus make it possible to meet the demand that exists among passengers.

"The order from VR is important for us as it strengthens the order book of our Otanmäki factory. The comfortable sleeping car concept will give us a foothold in the European market, which is experiencing a new boom in night train travelling. It is easy and effortless to board the train in your hometown and wake up in the morning rested and refreshed at the final destination."
Juha Vierros, President Region North at Škoda Group
"The popularity of overnight train travel has grown significantly in recent years. With this new fleet, we want to meet our customers' wishes and further improve the travel experience. For example, working and enjoying meals in your own cabin will be more comfortable than ever before,"
says Elisa Markula, CEO of VR.
The individual cabins are designed to resemble hotel rooms, so that passengers can both work comfortably and rest undisturbed during the journey. All cabins are equipped with toilet, some of them have their own shower. There are special family cabins for families with children, which can accommodate a baby cot. In addition to comfort, special attention has been paid to making the cabs soundproof so that passengers can enjoy the ride.

"Our fleet meets VR's requirements by bringing comfort, enjoyment and ease to night train travel. The night train is a comfortable and attractive alternative to both car travel and flying. The key factors are cabin functionality, a private toilet/shower and functional furnishings, to which we have paid great attention," explains Antti Korhonen, Sales Director at Škoda Group Region North. "Our night train concept for VR Group is a combination of comfort and functionality. The cabins are cozy for easy holiday travel as well as functional for working in peace and quiet during the journey,"
Korhonen continues.
The sleeping coaches will be put into service on the current night routes, i.e., from Helsinki, Turku and Tampere to Oulu, Rovaniemi, Kemijärvi and Kolari. The sleeping coaches will be complemented by freight wagons for cars, allowing passengers to transport their vehicle at the same time.
The contract also includes an option to purchase an additional 30 sleeping coaches and 30 freight wagons for cars. Through the option it will be possible to increase the frequency of services and extend the routes in the future. In addition, the option will allow the replacement of old train cars as their service life is coming to an end.
www.skodagroup.com