railway-international.com
Written on Modified on
The World's Largest Span Aallastless Track High-speed Railway Cable-stayed Bridge, Baihe Yujiang Bridge on Nanning-Yulin Railway was Successfully Closed
On September 20, the Baihe Yujiang Bridge on the newly-built Nanning-Yulin Railway in Guangxi, the world's largest ballastless high-speed railway cable-stayed bridge with a span of 350 kilometers per hour, was successfully closed by China Railway Guangzhou Engineering Group and China Railway Hi-Tech Industry.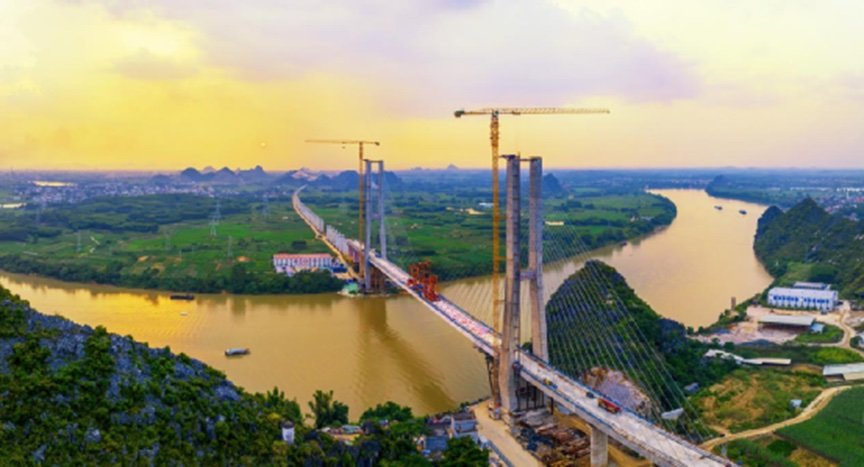 The picture shows the panorama of Baihe Yujiang Bridge

Baihe Yujiang River Bridge is a key control project of Nanning-Yulin Railway. The main bridge is located near Baihe Town, Hengzhou County, Nanning City, Guangxi Province. It is 612 meters long and crosses the Yujiang River. It adopts the scheme of a steel-concrete hybrid girder cable-stayed bridge with double towers and double cable planes. The main span adopts 31steel box girders, and the side span adopts cast-in-place concrete girders. The main span is 330 meters, the largest span cable-stayed bridge of ballastless track high-speed railway with a speed of 350 kilometers per hour under construction in the same period in the world, and is a breakthrough of ballastless track in large-span bridges. The main bridge has two main towers in the east and west. The tower is 146 meters high, which is equivalent to the height of a 48-story building.
The project team overcame the difficulties of large floating crane entering the site, complex process of steel-concrete composite section and high linear requirements for large-tonnage steel box girder installation, and used BIM technology to simulate and calculate in advance, and independently developed a large-amplitude deck crane and other technologies and equipment to ensure the smooth installation and closure of the steel box girder of the bridge.
The new Nanning-Yulin Railway is an important part of the Nanning-Shenzhen High-speed Railway. The main line is 193.31 kilometers long. It starts from Nanning East Railway Station in the west and ends at Yulin North Railway Station in the east. It is the first high-speed railway with a speed of 350 kilometers per hour independently invested by Guangxi Province. After the completion of the project, the time from Nanning to Yulin will be shortened from 2 hours to about 50 minutes.
www.crecg.com