railway-international.com
Written on Modified on
New generation "Nightjets" of ÖBB: Measuring wheel sets and approval tests from PJM
In future, a total of 33 Nightjets of the new Viaggio Next Level generation from Siemens Mobility will ensure comfortable and at the same time climate-friendly travel in Central Europe. For the approval of the newly developed passenger coaches, PJM is on board as an accredited test center according to ISO/IEC 17025.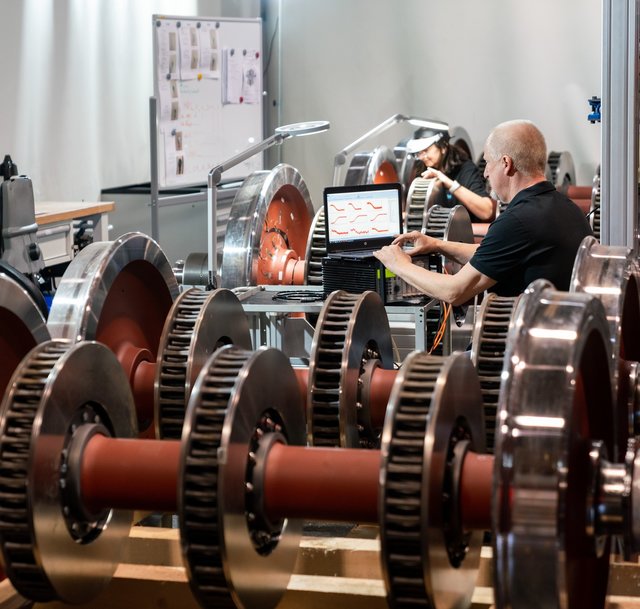 The Austrian system specialist was commissioned for the overall approval in cooperation with ÖBB. The contract specifically includes the measuring wheel sets as well as the approval tests in the areas of running behavior, fatigue strength, acoustics and aerodynamics.
6 measuring wheel sets were developed and manufactured in Graz and then installed in the test vehicle at the ÖBB plant in Vienna. The test runs started in autumn 2021. The test train is in use throughout the entire Austrian rail network. To evaluate derailment safety, the first approval tests started in the field of running behavior, after which the bogies were upgraded for the test runs in the area fatigue strength. Finally, high-speed measurements follow for the aerodynamics area. The acoustic tests will complete the approval tests.
"For an extensive project like this, it is above all our metrology expertise and experience in bringing together all specialist areas that prove their worth. Our flexibility and routine, which we have gained from our numerous international projects, are also essential. Due to the weather, there are always changes in procedures, for example during test runs in winter on the Arlberg at 1,000 m above sea level,"
explains Martin Josh, CEO of PJM.
"A good collaboration with the project partners is also immensely important in large-scale projects. The cooperation with ÖBB's measurement group is excellent."
The Nightjets are designed for central European long-distance travel. In developing the new vehicle concepts, special attention was paid to comfort, interior design and ambience. Specially designed lightweight bogies ensure particularly smooth running. Austrian railway competence.
The new Nightjets reflect Austrian railway competence. With the ultra-modern Nightjet fleet, ÖBB is expanding its market leadership as the largest night train provider. Siemens Mobility developed a next-generation passenger coach with the aim of combining a high level of travel comfort with state-of-the-art vehicle technology.
The extensive approval tests are carried out by PJM as an experienced test center. PJM develops and manufactures in Graz, the vehicles are produced by Siemens Mobility in Vienna, the bogies and wheelsets in Graz.
"Projects like these create a technological edge, jobs and added value in Austria in a climate-friendly market segment as well,"
says Martin Joch.
www.pjm.co.at