railway-international.com
Written on Modified on
New order for 80 converters for 62 trains to Germany and Serbia. This is our contribution to sustainable transport
Over the next year, Ingeteam will manufacture INGETRAC traction converters for Stadler to equip regional vehicles in Germany and Serbia. The company will design and deliver the converters for 44 2-car BEMU FLIRT3 trains that will operate in Germany at 140 km/h and 18 EMU FLIRT trains that will operate in Serbia at a maximum speed of 160 km/h.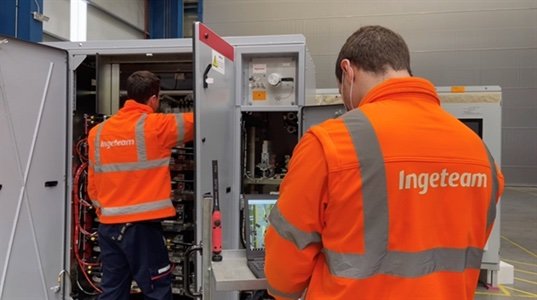 The company will manufacture the traction converters to equip 62 Stadler regional vehicles.
These are the first orders from the Swiss company and reinforce Ingeteam's commitment to the development of sustainable mobility.
These Ingeteam traction units will bring competitive advantages to the trains in terms of their efficiency, size and ad-hoc integration approach. The liquid-cooled, roof-mounted traction converters include an integrated auxiliary inverter and are adapted to fit into each train to ensure easy and optimal integration for Stadler. They are set up as a smart integration of well-proven Power Modules. In addition, special attention has been paid to achieving high efficiency, the necessary redundancy and easy maintenance to help provide safe operation. INGETRAC converters drive the trains towards more sustainable transport.

Josu Elorriaga, Director of Railway & Mobility at Ingeteam, adds that "with these new orders we have once again demonstrated our commitment to the development of power electronics technologies and gone one step further in the sustainability of rail transport" which is focused on the supply of efficient traction units. The traction converters enable electrical power from the AC catenary at 25 kV, 50 HZ (Serbian version) and 15 KV, 16 2/3 Hz and battery (German version) to be converted into the voltage and frequency required to drive train motors and other power requirements.

In particular, the converters for Serbia are roof mounted, liquid cooled and including 2x line inverter 525 kVA each, 2x motor inverter 500 kVA each (at wheel) and 1x auxiliary inverter 115 kVA. he converters for Germany are roof mounted, liquid cooled and including 2x DC-links, 2x line inverter 700 kVA each, 2x motor inverter 450 kVA each (at wheel), 4x DC/DC converter for ESS 550 kVA each and 2x auxiliary inverter 85 kVA each.

The converters will be designed at Ingeteam's headquarters in Zamudio (Bizkaia) in the coming months. This will be followed by their verification and validation at Ingeteam's power electronics laboratory, one of the most advanced in the world. The manufacturing process will be led by the Ortuella plant, which was inaugurated at the end of 2019. These new orders join a relevant backlog list of railway sector orders, placed over the past year.

www.ingeteam.com