railway-international.com
Written on Modified on
Plasser & Theurer proudly presents the Unimat 09-8x4/4S BR Dynamic E³, a cutting-edge combined machine for complete maintenance of tracks and turnouts.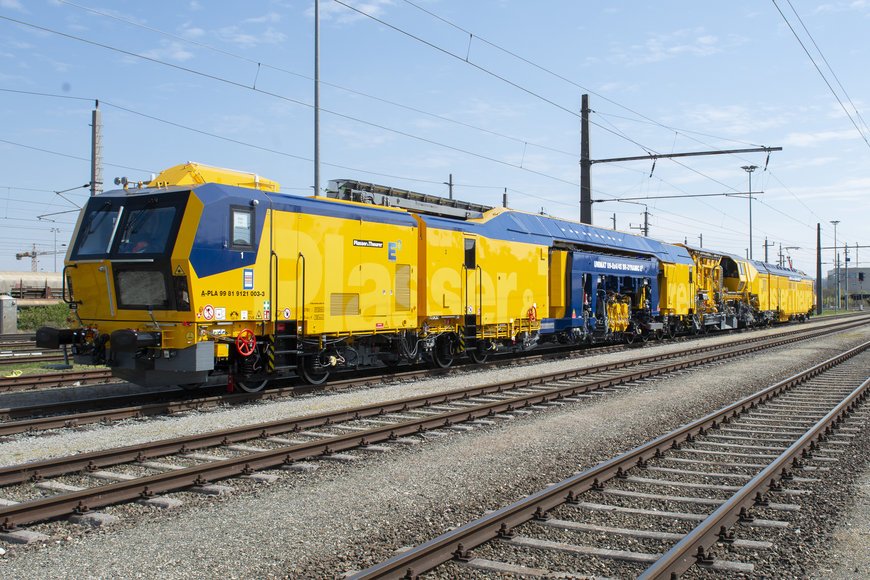 Existing ballast resources are used during the tamping process, which achieves a perfect result with just one machine.
Designed for optimised worksite logistics, the Unimat 09-8x4/4S BR Dynamic E³ track and turnout tamping machine combines the functions of several machines: ballasting, tamping, profiling, stabilising, surveying, and post-measuring. It was conceptualised as a versatile tamping machine that uses innovative technology while driving technological innovation.
The machine combines the newest features available as part of modularcustomizing with technologies that serve research and development purposes. For example, an entirely new approach to the operating concept is being tested in practice. However, the Unimat 09-8x4/4S
BR Dynamic E³ is not just a showpiece machine. In July of 2022, it is scheduled to start operation for Franz Plasser Vermietung von Bahnbaumaschinen, a Plasser & Theurer subsidiary.

The Unimat 09-8x4/4S BR Dynamic E³: goals, economic aspects, benefits

• Machine profile: a combination of a turnout tamping machine with increased tamping output thanks to an 8x4 tamping unit. It offers complete ballast management thanks to a profiling, ploughing and sweeping unit, hoppers, a ballasting unit, and an integrated dynamic track stabiliser.
• Main application scenario: periodic track maintenance – very flexible thanks to a complete ballast profiling section and front plough so that maintaining new layers remains possible.
• Typical conditions: shorter construction sections with short track possessions
• This combined machine has obvious advantages in terms of cost effectiveness and efficiency compared to individual machines: there is no need for a drive unit for additional machines; this translates into cost savings throughout the entire life cycle of the machine.
• Saves time and simplifies planning: the work sequences are carried out in a uniform, coordinated manner.
• Provides a solution to the increasing shortage of skilled staff: operation is possible with only five people.

Perfect design for periodic track maintenance
Track possessions available for sections of lines and machine operating times are becoming shorter and shorter. This is due to more condensed cyclic schedules and is particularly true in the area of periodic track maintenance. This means that the sections to be maintained are also becoming increasingly shorter, but often include a combination of turnouts, cross-over points, as well as connecting pieces and closure rails. In short: machines have to be as universal and variable as possible to handle the challenges mentioned above. This is where the Unimat 09-8x4/4S BR Dynamic E³ machine concept comes into play. It features a powerful universal tamping unit for tracks and turnouts. This allows the Unimat 09-8x4/4S BR Dynamic E³ to tamp turnouts with the same high flexibility, capacity, and speed as with a 1-sleeper tamping unit (4x4). At the same time, it can also be used to work quickly and efficiently in 2-sleeper mode.
Experience has shown that a combined machine such as the Unimat 09-8x4/4S BR Dynamic E³ unlocks its full potential when it comes to periodic track maintenance. From pre- and post-measuring of the track geometry to maintaining the track and the ballast bed, to performing post-treatments with the DGS dynamic track stabilising unit: all work sequences are carried out in a streamlined manner with just one machine.
The economic advantage: the Unimat 09-8x4/4S BR-Dynamic E³ combines several work sequences into one machine. It achieves immediate cost savings compared to using several separate machines for the same work. When designing it, special attention was paid to easy
serviceability. This saves time and increases flexibility.

So much more than tamping
As a combined track and turnout tamping machine, the Unimat 09-8x4/4S BR Dynamic E³ with ballast profiling function is the successor of the time-tested Unimat 09-475/4S N-Dynamic. This innovative machine performs the complete and technologically correct sequence of work for the maintenance of tracks and turnouts in a single pass. Plasser & Theurer's pioneering E³ technology makes the machine stand out, also in terms of its appearance.
In addition, a new operating concept has been implemented for the first time: the tamping operator and co-tamping operator share a cab. This improves coordination and communication between the two operators, increases working comfort, and enhances safety. The use of cameras gives the co-tamping operator an optimal view of the work units.
www.plassertheurer.com