railway-international.com
Written on Modified on
Thales, Invision AI and Metrolinx announce the successful completion of the 18-month WinterTech Development Program, developing advanced autonomous technologies for rail systems with support from the Ontario Government through Ontario's Autonomous Vehicle Innovation Network (AVIN), WinterTech Development Program. The project marks an important milestone towards train autonomy globally, achieved here in Ontario, through a partnership between industry and government.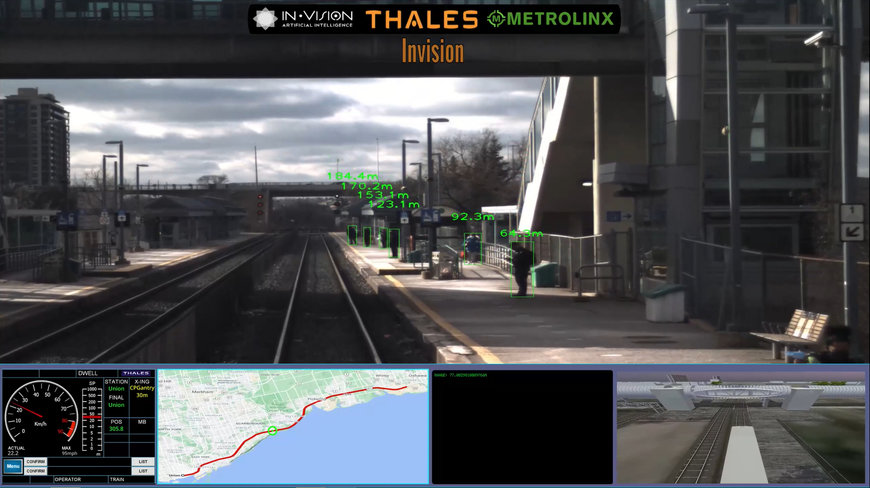 Invision AI, a Toronto-based technology scale-up; Thales, a global leader in digital technologies; and Metrolinx, the regional transportation agency for the Province of Ontario, today announced the successful completion of the WinterTech Program, an 18-month collaboration to validate the functionality and reliability of a cutting edge rail-centric system providing enhanced situational awareness, safety enhancements and operational benefits, through all weather conditions.
Since January 2021, a Metrolinx GO train has been equipped with the system, successfully operating in shadow mode on multiple lines in Toronto, collecting data from various sensors, including radars, cameras and lidar, powered by cyber-secured 4G/LTE capabilities. This data was used to train the system to recognize obstacles and other hazards in all weather conditions.
For rail transit operators, the benefits of this new solution include enhanced safety through sensors detecting and tracking potential obstacles, rapid installation time due to the minimal equipment footprint, and accurate real-time data collection crucial for maintenance and operations teams. For passengers, this will contribute to fewer delays, improved safety and enhanced reliability of the network.
The modular solution can support further upgrades. It can be combined with smart monitoring systems at level crossings and stations, to provide further safety enhancements by enabling beyond-line-of-sight reactions for approaching trains.
The project was made possible with support from the Ontario government, through AVIN's WinterTech Development program, and led by the Ontario Centre of Innovation. This project positions Canada to be the first to introduce advanced driver assistance and autonomous technologies that can function in all weather conditions.
The team at Invision AI is incredibly excited by the opportunity to develop a high-integrity train situational awareness system together with Thales, Metrolinx. We brought together the partners with the software, hardware and operational expertise to build an autonomous rail system capable of withstanding our harsh Canadian winter. We are proud to be setting a strong foundation for rail autonomy and solving global challenges right here in Ontario. – Karim Ali, CEO, Invision AI.
Thales is proud to have achieved this important milestone towards train autonomy in partnership with Metrolinx and Invision AI. Thales is committed to collaboration across all of our markets in Canada. The WinterTech project demonstrates the tremendous value that partnerships with start-ups and SMBs can deliver for Ontario. By bringing together our unique technological capabilities, together we are offering valuable made-in-Ontario solutions to our customers. – Chris Pogue, CEO, Thales Canada
This unique partnership between Invision AI, Thales and Metrolinx offers enhanced safety and efficiency for rail systems around the world, particularly those operating in harsh winter climates. Supporting research and development projects like this one, which enable the safe operation of advanced connected and autonomous mobility technologies in winter conditions, is why AVIN's Winter Tech Development Program was created. It brings together ambitious technology start-ups and industry leaders to pioneer advanced mobility technologies with global potential. – Vic Fedeli, Ontario Minister of Economic Development, Job Creation and Trade.
The partnership between Metrolinx, Thales and Invision AI has put Ontario on the map as a leader in developing connected and automated transportation technologies. Through AVIN's WinterTech Development program, this team has shown the benefits of embracing these exciting new technologies to keep people moving safely on transit with fewer delays regardless of weather conditions. Together, we are transforming the way people travel across the province. – Caroline Mulroney, Ontario Minister of Transportation.
Metrolinx is proud to support this initiative with Invision and Thales. A focus on safety is central to delivering a world class transit system, and innovative solutions like this one are an important part of this work. – Phil Verster, CEO, Metrolinx.
www.thalesgroup.com