railway-international.com
Written on Modified on
CTCI Secures E&M Contract for Taipei Metro's Circular Line North & South Sections
Leading engineering, procurement, and construction services company CTCI Corporation announced today that it has won NT$25.515 billion contract with consortium partner Alstom, global leader in sustainable mobility, to provide system-wide electrical and mechanical (E&M) works for Taipei Metro's circular line north and south sections.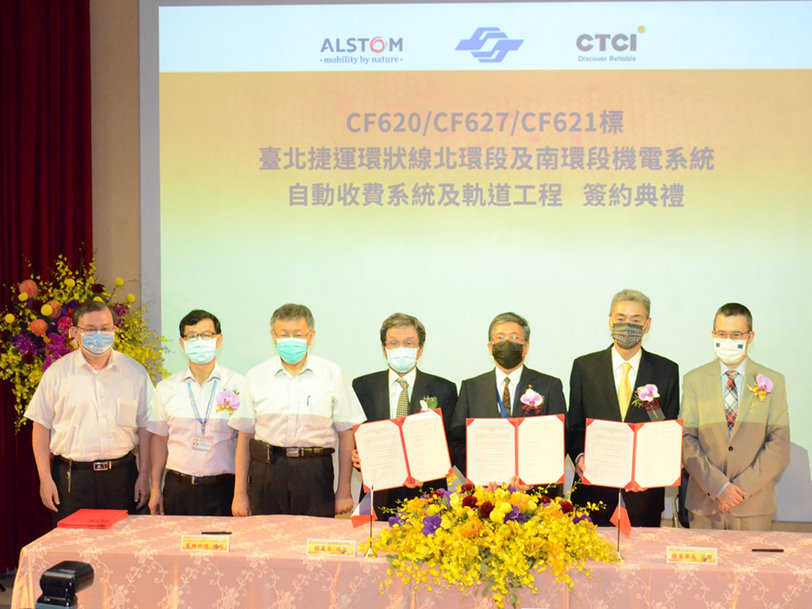 Ceremony attended by CTCI and Alstom representatives and government officials marks successful signing of E&M contract for Taipei Metro Circular Line North and South Sections.
From left to right: Tzer-hsiung Chang, Commissioner, Department of Rapid Transit Systems, Taipei City Government; Wen-tsung Lee, Chairman of Taipei Rapid Transit Corporation; Wen-je Ko, Taipei City Mayor; Bruce Lan, President of Alstom Transport S.A., Taiwan Branch; Lui Wei Su, Director of Systemwide E&M Project Office, Department of Rapid Transit Systems, Taipei City Government; Michael Yang, Chairman of CTCI Corporation; and Guillaume Delvallée, Directeur adjoint, Bureau Français de Taipei.


Michael Yang, Chairman of CTCI Corporation, says, "In continuance of our previous collaboration history, we are excited to work with Alstom again in the Circular Line North & South Sections. Through this project, CTCI aims to provide an opportunity for accelerating local rail technology development and industry integration by encouraging more local component and parts suppliers to get onboard."
CTCI has extensive experience in collaboration with Alstom in Taipei Metro projects, the latest of which is Wanda-Zhonghe-Shulin Line Phase 2 Extension that the consortium secured in August 2020.
The 20.66-km circular line north and south sections include 18 underground stations and a depot. Once completed in 2031, they will join the current section of circular line in operation to form an outer ring linking red, blue, orange, green, brown lines, and Taoyuan Metro Airport Line, bringing convenient means of transport to people living in Greater Taipei Area.
The scope of contract includes driverless rolling stock, track work, depot equipment, system integration, power supply, telecommunication, ticketing, platform screen doors, and monitoring system.
The contract win helps boost CTCI's financial performance. Aggregated contract reached NT$106.55 billion so far this year, equivalent to more than 80% of previous year's total contract.
For over three decades, CTCI enjoys leading share among all metro E&M contracts in Taiwan, including: Taipei Metro's Muzha (brown) Line, Bannan (blue) Line, Xinzhuang-Luzhou (orange) Line, Xinyi (red) Line, Songshan (green) Line, and Wanda Line(light green); Taichung Metro's Wuri-Wenxin-Beitun (green) Line; and Danhai Light Rail.
In addition, CTCI has undertaken various MRT trackwork projects in Singapore, including Thomson-East Coast Line, Gali Batu Depot, and Downtown Line Stage 3.
www.ctci.com