railway-international.com
Written on Modified on
Ricardo's design teams have supported Eversholt Rail, a UK rolling stock leasing company, to convert a passenger train into a low-carbon option for transporting parcels direct to town and city centres via the mainline rail network.

Work to transform a classic Class 321 vehicle into the Swift Express Freight Train commenced in early 2021 at Wabtec's Doncaster facility and was completed in June.
The train has been designed to maximise capacity for parcels and light goods whilst ensuring the interior is flexible to meet individual customer requirements.
The scope of works included removal of all passenger features and the installation of new flooring and industry standard fixings throughout.

"We are proud to see the first Swift Express Freight Train completed and ready for service",
said ​Paul Sutherland, Client Services Director at Eversholt Rail.

"Collaborating with both Ricardo and Wabtec on this project has delivered a train that will demonstrate the potential for a cost-effective, low carbon solution to meet the growing demand for home delivery of parcels around the UK and contribute towards the 2050 net-zero emissions targets. We look forward to seeing the Swift Express Freight train running in service later this summer."
As the volume of parcels delivered across the UK increases the rising van and lorry traffic is adding to existing congestion, carbon emissions and air quality issues in urban areas. This also creates significant planning problems for logistic companies and impacts on their tight delivery schedules.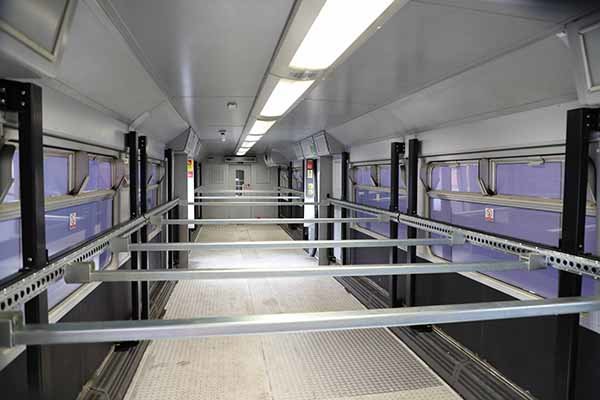 The C321 Swift Express Freight, therefore, offers an alternative option: fast and reliable rail services to encourage modal shift and contribute toward the target of net-zero emissions by 2050.
Jonathan Brown, Ricardo's Technical & Innovation Engagement Lead (Rail) oversaw the project's design work.
"It's been immensely enjoyable to be part of the team with Eversholt Rail and Wabtec,"
he said.
"The project required significant collaboration between all stakeholders in order to successfully deliver a viable solution within the timescale. I can't wait to see the vehicle in service and making a positive impact on sustainable logistics."

Andy Derbyshire, Group Managing Director, Wabtec UK said:
"It is great to see the recent efforts of our collaboration with Eversholt Rail and Ricardo come to fruition. Our team in Doncaster has done a superb job delivering this important milestone project and we look forward to seeing the train produce genuine carbon and cost reductions."

www.ricardo.com