railway-international.com
Written on Modified on
The Schukinskaya terminal is the 10th built from the scratch suburban terminal on the D2.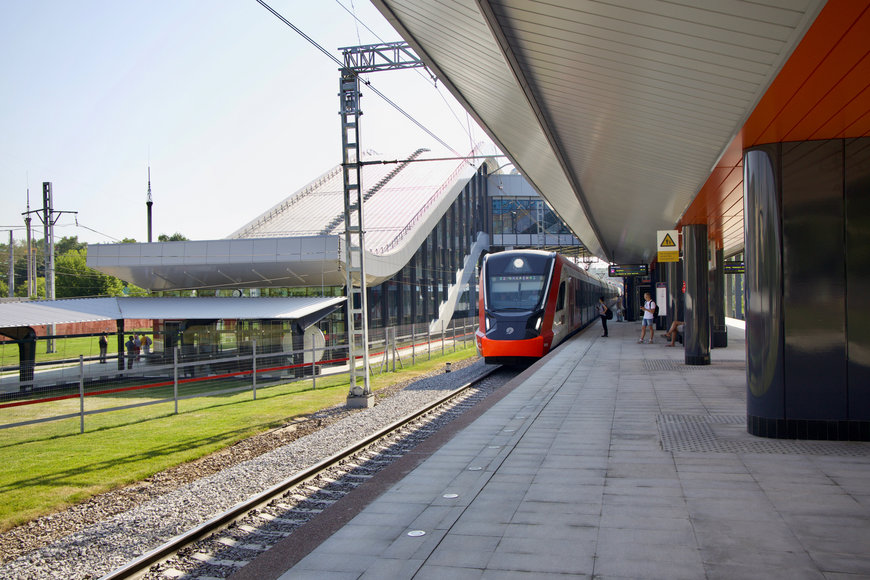 The modern Schukinskaya terminal on the D2 opened becoming a part of the largest transport hub in the North-West of Moscow. It connects almost all modes of public transport: the MCD, metro, buses and trams.
«The main goal we have set for the MCD is to create hundreds of new routes for Muscovites to make them travel across the city even faster and more comfortable. Namely convenient transfers – transport hubs – between district and mainline transport form new opportunities. Opening of D2 Schukinskaya terminal allows almost 200,000 inhabitants to choose the fastest route to the final destination. The best indicator of its efficiency will be the unloading of the neighboring metro station – Tushinskaya whose passengers capacity in the future should decrease by 10-15%»,
– noted Maksim Liksutov, the Deputy Mayor of Moscow for Transport.

The Schukinskaya terminal includes two lobbies, a passenger terminal, a platform with benches and a canopy over the entire length for passengers' protection from the fallout. The passenger terminal houses cash registers, turnstiles, toilets. Also, 6 escalators and 3 lifts, so both passengers and residents, including those with low mobility, will be comfortable and easy to get onto the platform or cross the railway. The lobby and passenger terminal have received panoramic glazing. As a result, during the day the space will be filled with a natural light. Electronic billboards with information about the arrival of trains are placed outside, inside the terminal and on the platform. 
The Schukinskaya terminal is the 10th completely new opened terminal on the Line D2 since 2019. It became a part of the largest transport hub in North-West of Moscow. It is located on the border of two districts which overall have more than 170,000 inhabitants, and 46,000 of them live within a walking distance from the hub.
The total area of all buildings exceeds 5,000 sq. m. By the end of this year, it is planned to open another suburban terminal – Pechatniki on the D2, in 2022 – Maryina Roscha. It is also planned to build another station – Kotlyakovo.
www.mosmetro.com