railway-international.com
Written on Modified on
Considerable energy reductions and outstanding punctuality when Helsinki Metro implements CATO Driver Advisory System
Helsinki Metro is operated by Helsinki City Transport, HKL. There is continuous work to improve the operation of the metro system, for example to improve punctuality, decrease cost of operations and to increase sustainability.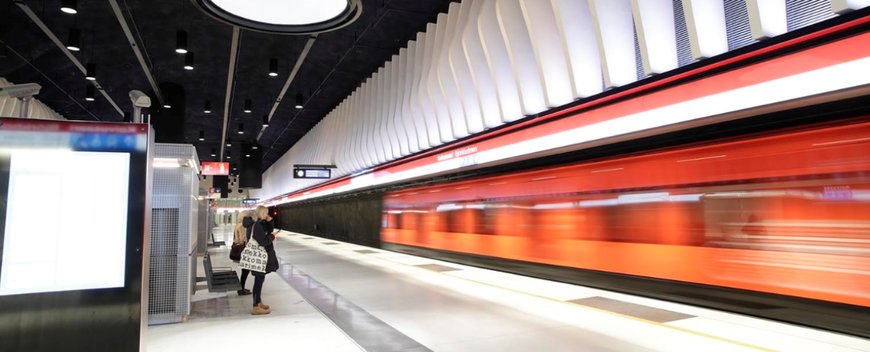 For these needs implementation of a Driver Advisory System was studied and Transrail was contracted to deliver their CATO system, deemed as the best choice on the market and showing a good business case and opportunities to improve the operation. The contract required a basic initial verification by pilot tests, which were done shortly afterward the signature. The implementation was rapid and the operation with CATO could be started already four months later.
The final evaluation of the effects of the implementation was done this autumn. The measurements show above 20% reduction of the traction energy consumption and contractually 17,6% which is well above the guarantee by Transrail. The result is considered negatively affected by the pandemic. Furthermore, the traffic regulation is improved by an arrival punctuality to the stations within a few seconds. This is very important as regards the traffic flow and traffic capacity.
Arttu Kuukankorpi, Director of Traffic Operations of HKL:
I am impressed by the CATO system as well as by Transrail and their commitment to deliver. The results are far better than expected. CATO has been positively received by the drivers. The system adds to their understanding of the metro operation, raises their skill and assists them to perform very well. The system is also very helpful when introducing new drivers. Many drivers perform better than 20%. Not all drivers have reached such high performance so far but will surely do so. We also expect that CATO will help us increase traffic capacity and improve traffic management.
Per Leander, CEO of Transrail:
It has been a pleasure to work with the highly professional people at HKL. They have a good team and positive drivers. They are open, straightforward and frank, which has been a good base for the project. We look forward to further cooperation and we know that CATO can bring even more to the metro operation.
Transrail Sweden AB is a Swedish company with a background as railway consultants but today focused on the CATO DAS and C-DAS system. CATO is based on a mathematical model (a digital twin) of the system. By use of modern mathematics and optimisation, combined with modern IT, the system gives high performance in all aspects. The system is also suitable for Intelligent Cruise Control and ATO. It is evident with the Helsinki Metro installation that CATO works excellently in all types of rail traffic.
www.transrail.se