railway-international.com
Written on Modified on
Major Supertram rail replacement project ends
The multi-million pound project to extend the lifespan of Sheffield's Supertram network has concluded, with tram services on the Blue route reintroduced earlier this month, putting the tram system back into full operation.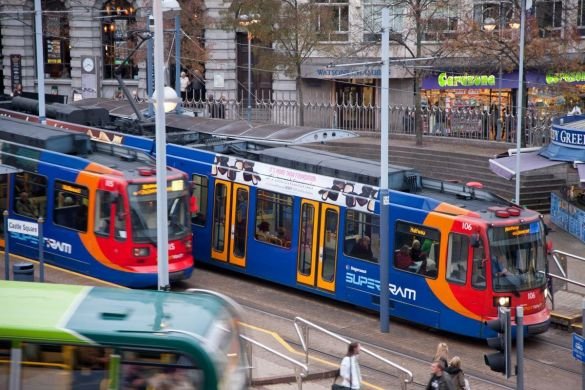 Since May 2020, VolkerRail has been replacing track sections that have suffered wear and tear across the network. This phase of work is part of a longer-term programme, which has seen VolkerRail replace 22.5km of rail over six years.
South Yorkshire Passenger Transport Executive (SYPTE) has worked closely with Stagecoach – the company which runs the service – and VolkerRail to complete the works as quickly as possible, to minimise disruption to customers and residents.
Despite the restrictions imposed by the current pandemic, the project was delivered on time and within budget.
SYPTE's director of transport operations, Pat Beijer, said: "Supertram has served millions of South Yorkshire's passengers. Rail wear is inevitable over time, and this major project was essential to ensure services continued to run safely.
"We've been replacing sections of rail in stages over a six-year programme, concentrating on curves and gradients, where the rail is subject to heavy wear. The new rail will improve passengers' comfort while travelling on the trams, providing a smoother, quieter journey.
"We're very pleased to have fully re-opened an improved network, and grateful to Supertram customers, and local residents and businesses for their patience while these critical works took place. The project will help to secure the long-term future of one of our region's most beloved modes of transport."
John Pearson, VolkerRail general manager, said: "We are extremely pleased to have been able to complete this year's stage of track replacement works and extend the lifespan of Sheffield's tram network. Our strong relationship with SYPTE and Supertram, as well as our detailed safety protocols, meant all parties were able to continue working 'as normal' throughout the pandemic and all deadlines were met."
About Sheffield Supertram
The Sheffield Supertram network comprises four lines and 50 stops, covering 22 miles and connecting passengers to work, education, health and leisure opportunities. Before the coronavirus pandemic, around 12 million journeys were made every year.
www.volkerrail.com