railway-international.com
Written on Modified on
Alstom goes full steam ahead with CSR initiatives in support of communities across the UAE
Alstom has continued to reaffirm its commitment to supporting local communities through various CSR initiatives – ensuring its corporate social responsibility (CSR) efforts are deeply rooted in its strategy. As a socially responsible company, the global leader in rail transport and sustainable mobility, which has several key urban projects such as Dubai Tram (the first tramway in the GCC) and Dubai Metro Route 2020, is striving to improve the lives of the local communities it operates in.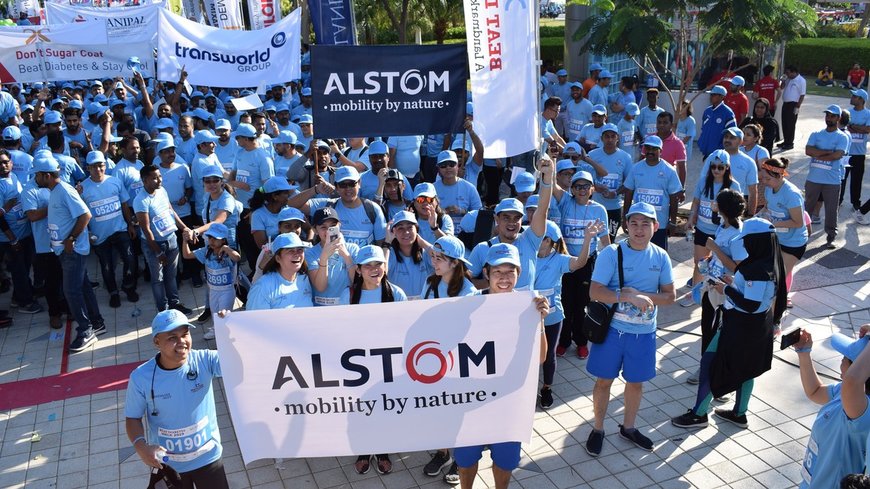 Pandemic Support

In addition to distributing CSR Kits containing COVID-19 essentials to its team-members, Alstom recently provided less privileged families across the UAE with pandemic essentials. As part of the initiative, Alstom partnered with Rafawed Development & Learning Centre to donate various gift items, including groceries and sanitisers, to 50 families, following the outbreak of the global pandemic.
CSR Days
Alstom is always on the lookout for positive ways to socially impact the communities it operates in and has consequently participated in numerous community support initiatives across the Emirates. These initiatives have included 'Beach Clean-up Day', the 'Dubai Tram Experience & Gift Giving' for students of determination, the 'Joy of Eid' Ramadan initiative, volunteering with children of determination at the Al Marmoom Equine Therapy Centre, Diabetes Awareness Day, Sustainable Mobility Day, a blood donation drive, and more.
Run & Cycle for a Cause
In April of this year, Alstom organised a Run & Cycle for a Cause campaign to raise proceeds for the Rashid Centre for the Determined Ones. The campaign encouraged Alstom team-members to walk, run or cycle, and Alstom then matched their efforts with a 1-dirham donation for each kilometre covered. The team raised and subsequently donated AED 50,000 to provide 14 wheelchairs for people of determination at the Rashid Centre.

Ajman University Collaboration
In line with its commitment to empowering UAE students, Alstom recruited Ajman University (AU) students who successfully completed a special railway system training in Dubai. The recruitment followed an agreement signed by Alstom and Ajman University in 2019 to provide technical training for AU students and develop their expertise in the railway industry. After the training, two AU students were invited to become part of Alstom's Dubai team.
Helping Communities
Commenting on the company's continuous CSR efforts, Tamer Salama, Managing Director of Alstom GCC, said, "As a socially responsible company, we are committed to helping the communities we operate in through our ongoing corporate social responsibility (CSR) initiatives. I'm proud of the great progress we've made growing our CSR efforts in the UAE."
Alstom is a dedicated and long-standing partner of Dubai's transportation and mobility development. As well as delivering the Dubai tramway, the first fully integrated tramway system in the Middle East and the world's first 100% catenary-free line, which was opened in November 2014, the company has been tasked with the maintenance of Dubai Tram for a period of 13 years. The Alstom-led Consortium, ExpoLink, is also responsible for delivering the world's fastest-built turnkey driverless metro project, Dubai Route 2020 Metro,
which was inaugurated in June 2020.


www.alstom.com