railway-international.com
Written on Modified on
EOLE: summer work is underway
From the Haussmann Saint-Lazare station in Mantes-la-Jolie, teams are mobilised as part of the Eole project, the extension of the RER E to the west of Paris.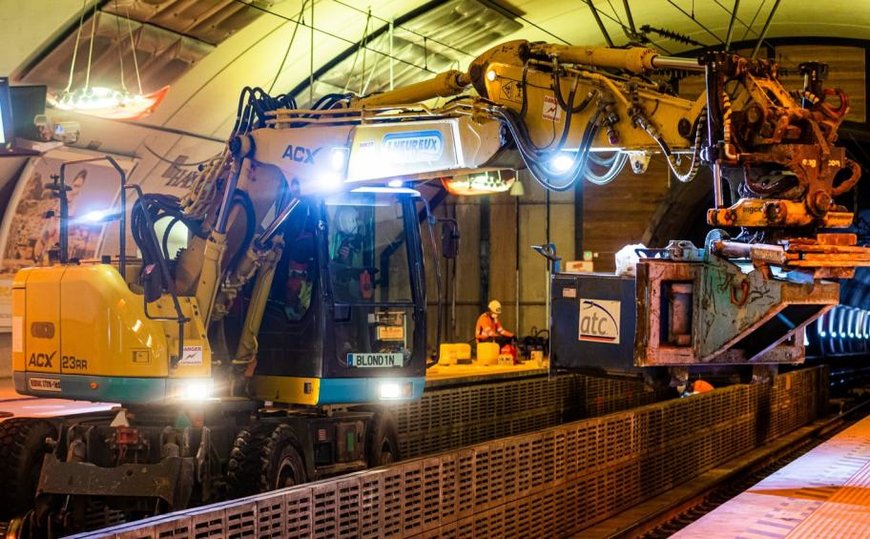 Haussmann Saint-Lazare
The worksite started in mid-July after several weeks of preparation during which ten or so workers prepared 1,000 tie plates, 32 long welded rails (LRS) and 3,000 bi-block sleepers… The work now consists of raising four tracks in Haussmann station and one track in Magenta station, by laying prefabricated slabs after removal of the old track. Once the slabs have been sealed, the bi-block sleepers and the LRS will enter the construction site.
Nanterre-La Folie
The qualified craftsmen lay 7 km of track including about 35 switches and crossings, carry out civil engineering works, tracks, platforms and catenaries to access the Nanterre-La Folie station. This project will mobilize more than 80 people throughout summer.
Mantes-la-Jolie
Shifts are starting work on redeveloping the track plan of the Triangle de Mantes. On the programme: removal of the 14 existing tracks to create 5 tracks dedicated to the maintenance of the RER E next-generation. This work indicates the start of the new track plan for the future arrival of the RER E. Alongside, Eiffage Rail is also removing nine other service tracks to accommodate the structures allowing the line to reach the heart of Mantes-la-Jolie.
www.eiffage.com