railway-international.com
Written on Modified on
ÖBB RCG OFFERS NEW CONNECTIONS BETWEEN CENTRAL EUROPE AND CENTRAL ASIA
Customers benefit from shorter transit times, reliable and sustainable transport solutions for 20-foot and 40-foot containers and improved connections between markets in both regions.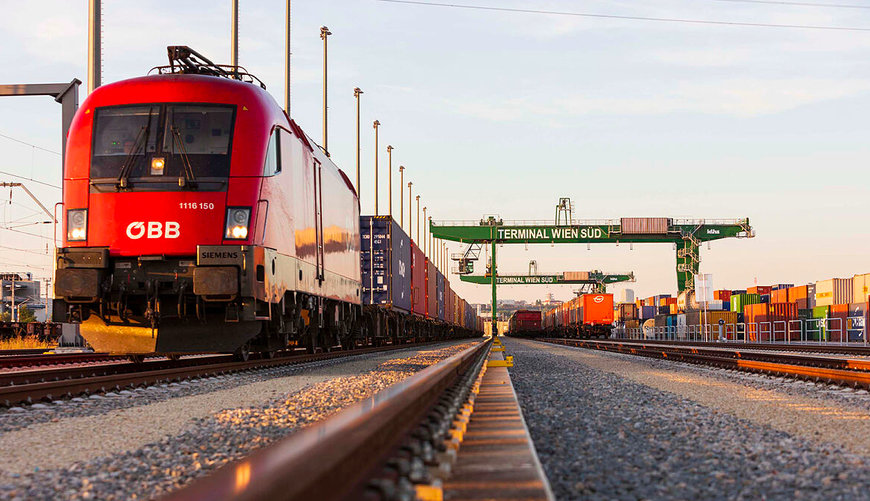 ÖBB Rail Cargo Group (RCG) connects the trading centres of Central Europe with those of Central Asia with sixteen new intermodal transports via the Middle Corridor. The services are operated in cooperation with partners and enable efficient and smooth transport solutions along the entire route. With competitive transit times of around 30 days, the regularly scheduled trains offer an attractive alternative to sea freight.

Bypassing geopolitical restrictions
A key benefit of these transport solutions is that they safely and reliably transit through non-sanctioned countries, allowing customers to obtain transport insurance. They also bypass the currently congested ports of loading and unloading terminals as well as sea and hinterland terminals. This leads to fewer bottlenecks and more efficient handling of both import and export shipments. RCG can handle the entire logistics value chain, including additional forwarding services. Customers are informed daily about the current transport status.

Multiple options via three routes
There is a route via Istanbul (Turkey) to Tbilisi (Georgia), Yerevan (Armenia), Baku (Azerbaijan), Astana and Almaty (Kazakhstan), Ashgabat (Turkmenistan) and Tashkent (Uzbekistan). Via Constanta (Romania), the route runs to Tbilisi (Georgia), Baku (Azerbaijan), Astana and Almaty (Kazakhstan), Ashgabat (Turkmenistan) and Tashkent (Uzbekistan). Furthermore, it is additionally transported via the Northern Corridor to Astana (Kazakhstan), Tashkent (Uzbekistan) and to Ulan Bator (Mongolia).

Rail Cargo Group: the freight transport division of the ÖBB
As a leading rail logistics provider in Europe, we are shaping the industry. 365 days a year – 24 hours a day. Across Europe and beyond into Asia. With our presence in 18 countries worldwide, we connect people, businesses and markets – from the first to the last mile. It's thanks to our 5,887 logistics professionals from 34 nations that 448,000 trains a year, respectively 1,230 a day, reach their destinations safe and sound. With our efficient end-to-end logistics services, we transport over 88 million net tonnes of freight each year. A modal share of 27.5 % (preliminary value) of the total freight market in Austria makes us top of the league in Europe. Operational management of the Rail Cargo Group lies with Rail Cargo Austria AG.
www.railcargo.com