railway-international.com
Written on Modified on
DIGITAL FREIGHT TRAIN EQUIPPED WITH DAC COMPLETES TEST RUN
The aim of the test drives was to check the functionality of digital automatic coupling (DAC) in different situations and different conditions and to identify possible weak points.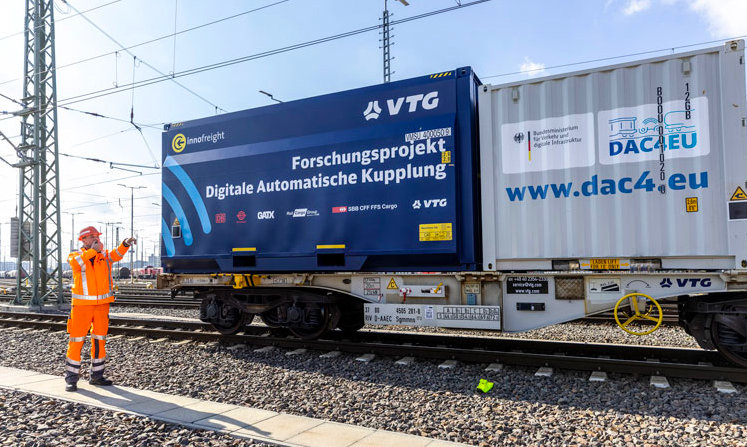 The introduction of digital automatic coupling (DAC) for freight trains is gaining momentum. The first practical test of the digital freight train, which lasted several months, was successfully completed. 

Now the manufacturers of the new clutch are moving into the next development phase. Over the next few months, the new standard for freight trains in Europe should be ready for series production. The Federal Ministry for Digital Affairs and Transport (BMDV) is providing an additional seven million euros for a further test phase. The manufacturers and the Europe-wide consortium work closely together.

The DAC is the backbone for the digitization of freight trains. It enables what is otherwise done by hand: at DB Cargo alone, up to 70,000 coupling operations have to be carried out by hand every day throughout Europe to form trains. Cars can be connected to the DAK in fractions of a second, including brake and digital control lines. This means that freight wagons are equipped with continuous power and data lines for the first time.

All shunting and operational runs in freight transport can be automated and run faster. That is why the Europe-wide introduction of the DAC is the decisive lever to make rail more competitive than road and to achieve the European climate goals. Financing is, therefore, a pan-European challenge, the design of which is still under discussion.

In the past year and a half, the test train has covered a total of 10,000 kilometers in seven European countries. 25 different marshalling yards were approached, and operation was tested in the lowlands, in the Alps and under extreme weather conditions from minus 25 to plus 40 degrees. The funding for the extension of the DAC project makes it possible for the test train, which consists of 18 cars and 40 DAC prototypes, to be used in other European countries. These trips will provide new test results, with which the various manufacturers of the clutches can complete their ongoing development work and present solutions ready for series production.

In addition to DB and its subsidiary DB Cargo, five other companies are involved in the DAC4EU consortium, which is implementing the project: the Swiss and Austrian freight railways SBB Cargo and Rail Cargo Austria, as well as the wagon keepers Ermewa, GATX Rail Europe and VTG.
www.deutschebahn.com