railway-international.com
Written on Modified on
CargoBeamer expands portfolio by offering integrated first and last mile service
Drayage solution paves way to becoming integrated logistics operator.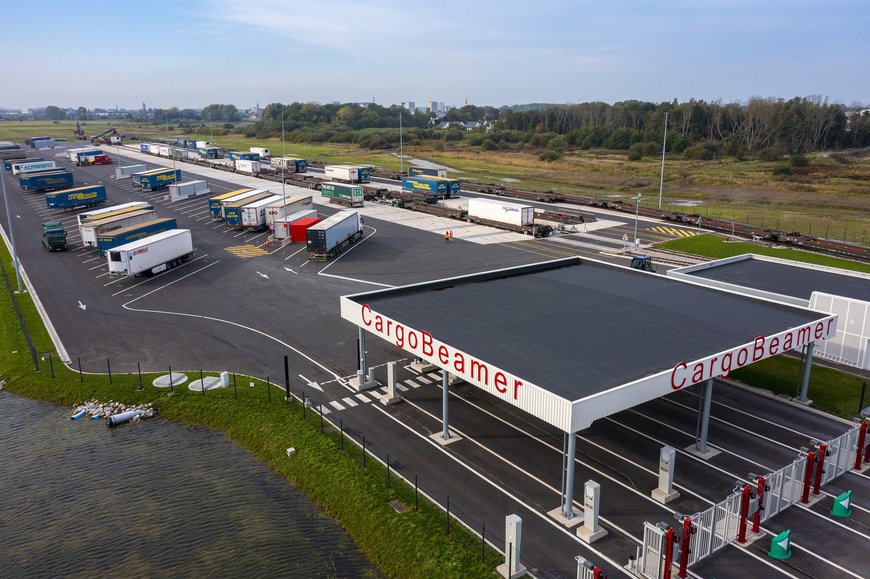 CargoBeamer, the leading operator of rail connections for non-craneable semi-trailers in Europe, is expanding its portfolio by establishing a service for first and last mile transportation by road ("drayage"). The concept serves as an optional add-on to CargoBeamer's regular rail connections by providing a road traction solution for our clients' semi-trailers. It will commence operations during the second quarter of 2023.
An integrated drayage solution makes intermodal more accessible for both existing and new customers who are working on shifting road transports to rail. Additionally, it allows transportation companies to assess the increasing shortage of truck drivers by optimizing their utilization. The drayage service is offered in the following regions: northern Italy, western Germany & Benelux, northern France, southern France & Northeastern Spain, and large parts of the UK plus Ireland. It will connect all terminals in the network of CargoBeamer to third-party locations, warehouses, and Ro-Ro ports of the region.

Enabling intermodality for all transportation companies

First test trials have already been completed on the Kaldenkirchen <> Domodossola route, where the transport of semi-trailers in both directions was extended by road to the port of Genoa. Bookings of the new service will be made via the integrated "eLogistics" system of CargoBeamer. When ordering first or last mile transportation, clients can choose between a single or rotational model. All emissions caused by first & last mile transportation by road will be covered by the carbon neutrality program of CargoBeamer and therefore offset by using gold standard certificates.

Boris Timm, Chief Operating Officer of CargoBeamer, says
:
"CargoBeamer has always pursued the goal of making intermodal logistics more accessible to road transport companies across Europe. By adding this drayage service, we are lowering another important barrier that especially held back small and medium-sized freight forwarders from shifting semi-trailers to rail. An integrated trucking service for virtually all types of semi-trailers lowers the costs of organizing intermodal transport significantly and will allow companies with little or no road-to-rail experience to start using CargoBeamer for the first time. Our clients will also benefit from an increased throughput rate of units moved by truck drivers and a fully carbon-neutral supply chain when using CargoBeamer."

www.cargobeamer.com