railway-international.com
Written on Modified on
Three new motor tower cars bolster the EUROPTEN fleet
Plasser & Theurer handed over new MTW 100.216 motor tower cars to EUROPTEN during a small ceremony.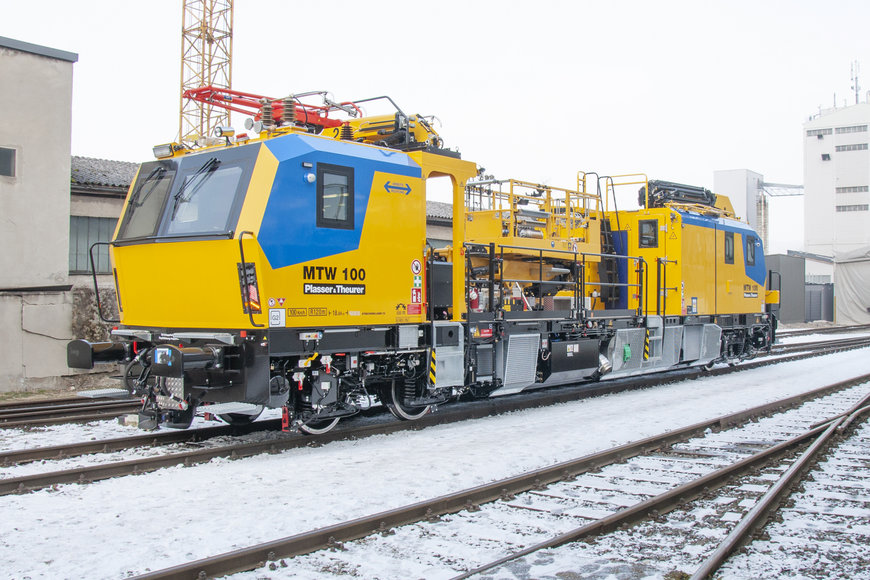 These modern machines are the company's way of addressing the increasing demand for building new railway lines as well as railway-line electrification and maintenance. They are mostly intended for operations in Germany, Austria, and Switzerland.
With two new MTW 100.216 motor tower cars handed over by Plasser & Theurer, the company European Trans Energy GmbH (EUROPTEN) continues to expand its vehicle fleet to include the optimal work vehicle for safe and efficient work on the overhead line system. A third MTW in the same design is to follow in April 2023. When handing the vehicle over to Dr. Hannes Androsch, chairman of the EUROPTEN supervisory board, Johannes Max-Theurer, CEO of Plasser & Theurer, emphasised the company's successful, long-standing business relationship with EUROPTEN and its predecessor company. Domiciled in Vienna, it is active in numerous railway upgrades in Austria, Germany, Slovenia, and Switzerland. The company has been electrifying newly built lines or modernising contact line systems since 1926. Versatile, reliable machines that are flexible in application, such as the MTW 100.216, are used for this demanding work. Against the backdrop of a shift from road to rail and in view of increasing demand, EUROPTEN is strengthening its fleet with no less than three MTWs in line with the motto "performance for performance". The MTW 100.216 will already begin operating in Austria as well at the end of January.

A long-standing customer relationship

The MTW is a universal assembly vehicle for contact line construction, inspection, and maintenance. It also serves as an autonomous transport vehicle for materials and people. The vehicle's development was driven in part by EUROPTEN's predecessor company, which was using the MTW back in the 1980s. Its modern version, the MTW 100.216, has been in operation for many years. So far EUROPTEN has purchased a total of 20 Plasser & Theurer machines. Starting in 2018, the company began testing the HTW 100 E³, a hybrid motor tower car, in real-life settings, such as work on the Ceneri Base Tunnel. In the end, the HTW was leased in the long term. When working in tunnels, the battery-powered electric drive offers major advantages for employee health and safety.

Ideal for all work on the overhead contact line

The length of the MTW 100.216 over its buffers is almost 19 metres. It carries a fully hydraulic three-part column lifting platform in the middle of its frame for all work on the overhead contact line. Two of the platforms can be extended laterally by up to 4 metres each. This simplifies and speeds up assembly work significantly. In this way, three different gripping ranges at a working height of up to more than eight metres can be accessed independently. The rooftops are accessible and feature automatically folding guard rails. A railway loading crane with a mountable personnel basket is located at one end of the car. Specially designed for work on overhead contact line systems, it can also be used as a loading crane and assembly aid. Its operating radius with the basket and hooks reaches up to 18 metres above the track and, with hydraulic supports, up to approx. 14 metres laterally from it. In working mode, the machine can be moved both from the personnel basket and the work platform.

Features a workshop and crew room

Located in the large cab behind the front driver's cab, the MTW has an integrated workshop cab with a work bench and air-conditioned spaces that include a kitchenette, table, and seating for up to eight people. The contact wire and carrying cable holding device aids in the assembly of lines. A pantograph is used for earthing, and an alignment positioning tower sets the position of the contact wire. The MTW achieves a speed of 100 km/h, both under own power or towed. Two of the four wheelsets are hydrostatically driven. A diesel engine that meets the EU Stage V emission standard provides energy. Its output is 440 kW. Needless to say the engine has a particulate filter, and the cabs feature both noise and thermal insulation.
www.plassertheurer.com