railway-international.com
Written on Modified on
SYSTRA WINS A NEW CONTRACT ON THE DHAKA METRO IN BANGLADESH
SYSTRA, in a joint venture, has been awarded a contract for Consulting Services for the Dhaka Metro Line 1.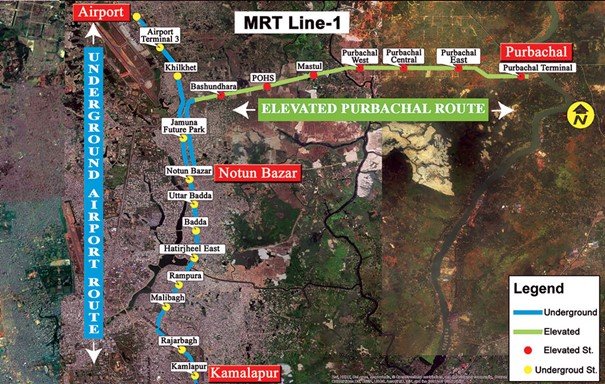 Plan of the metro line

Continuing a successful track record of collaboration with the Dhaka Mass Transit Company Limited (DMTCL) in Bangladesh, SYSTRA's main assignment is to supervise 12 construction packages including civil engineering, electrification, and systems work.

The assignment also includes supervision of the construction of the railway system, the underground section, and the depot building.

A team is being set up in Bangladesh and will work closely with our teams in India to provide a complete service to our client for this project, which is due for completion in 2029.

SOLID EXPERIENCE ON THE DHAKA METRO
SYSTRA has worked in rceent years on several projects for the Dhaka Metro:

Line 6 in 2018
Line 1 in 2019
Line 5 in 2021

SUSTAINABLE PUBLIC TRANSPORT TO EASE TRAFFIC IN THE CAPITAL
The Dhaka Mass Rapid Transit Development Project forms part of the Government of Bangladesh's Strategic Transport Plan (STP) which aims to reduce traffic congestion and pollution in the country's capital and largest city with a population of 13 million.

Passengers will benefit from a modern transport system that is that is integrated with other transit systems such as buses and regional trains and is safe, reliable, modern, and economical.

KEY FEATURES – DHAKA METRO LINE 1
- Length: 31.24km comprising:

Airport Route from Hazrat Shahjalal International Airport
to Kamalapur (19.87km of which 16.4km underground, 12 stations)
Purbachal Route from Notun Bazar to Purbachal (11.34km with 7 stations)
- SYSTRA's JV partners: Nippon Koei Co. Ltd. (lead), Oriental Consultants Global Co. Ltd., Delhi Metro Rail Corporation Ltd., Nippon Koei (India) Pvt. Ltd., Katahira & Engineers International (Japan), Development Design Consultants Ltd. (Bangladesh), and Nippon Koei Bangladesh Ltd.

www.systra.com