railway-international.com
Written on Modified on
Škoda Group established a new subsidiary in Italy
On Friday 28 October, Škoda Group festively opened the office of its new subsidiary in Florence, Italy. With this move, the largest Czech manufacturer of vehicles for public transport strengthens its position on the international market.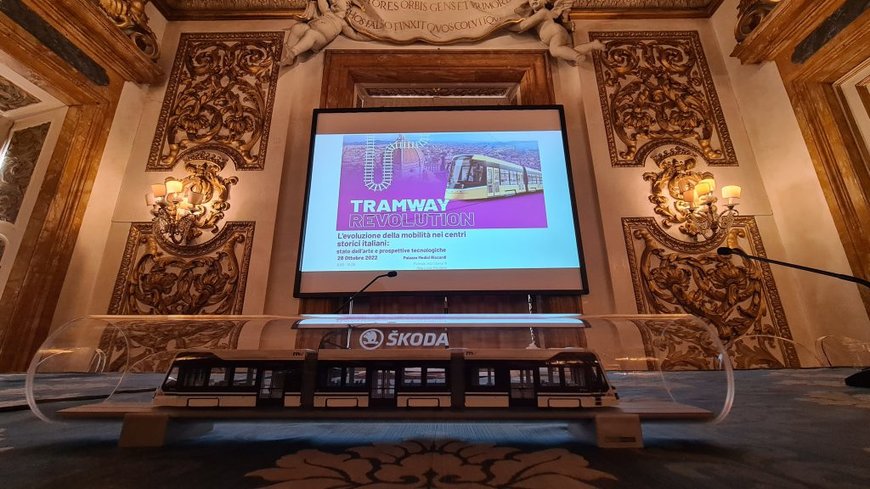 Olesea Lachi, who has long been responsible for sales of rolling stock in the Group, has become the managing director of the subsidiary. To mark the festive opening of the subsidiary's office, the Group organised an event called "Tram Revolution", which was attended by representatives of Italian institutions and industry experts.

During Friday's roundtable, opinions, studies, experiences, and specific programmes on the future of mobility were gathered among needs, urban limits, combined strategies, and future projects. Discussions were held on how to sustainably improve the vitality of historic cities such as Tuscany, which characterise Italy in a distinctive way. "The experience of Florence speaks for itself: the tram is essential for the daily life of cities, changing and improving them," said Florence Mayor Dario Nardella.

"The specifics, preferences and habits of Italian operators are like the Czech ones. Many cities in both countries are UNESCO heritage sites and offer stunning historic centres characterised by narrow streets, arches with small, curved radius, which place higher demands on vehicle manufacturers. Medium-sized cities have a long tradition of trolleybus transport, but often have to cross several sections without catenary. The countries are also linked by their focus on the Green Deal and sustainable mobility solutions. All this together makes the Škoda Group particularly focused on the Italian market."
Olesea Lachi, Managing Director of Škoda Group's Italian subsidiary

The Regional Councillor for Mobility Stefano Baccelli, the Mayor of Florence Dario Nardella and the "City Manager" of Florence Giacomo Parenti, together with Didier Pfleger (CEO of Škoda Group), Olesea Lachi and industry expert Giovanni Mantovani, discussed the systemic vision of urban mobility and hypotheses for its evolution thanks to trams. The discussion highlighted the weaknesses of areas with a medieval/renaissance urban layout, such as Florence, and then revealed some development plans to show what the city of the future could look like using the latest technologies, such as those of Škoda Group.

Thus, mobility and road system solutions that guarantee the best sustainability, liveability and safety for citizens are proposed. The tram route appears to be a throwback to the past, but instead is a modern and efficient infrastructure and a symbolic example of virtual mobility. In the city of the future, according to Škoda Group, the tram is self-driving and runs completely safely thanks to the latest technology. Soon, battery-powered vehicles that are not only environmentally friendly and sustainable, but also able to move more quickly in historic centres with narrow streets, will be more common in cities. After all, the Tuscan capital has to reckon with the duo of beauty/sustainability, as it is a UNESCO heritage site and has recently been shortlisted for the nine Italian capitals that aim to be 'zero-emission' or climate neutral by 2030.
www.skodagroup.com