railway-international.com
Written on Modified on
The first fully electric tamping machine for the German market
The InnoTrans Outdoor Display is where Plasser & Theurer will be presenting the Unimat 09-4x4/4S Dynamic E3, the new all-in-one tamping machine with climate-friendly drive technology.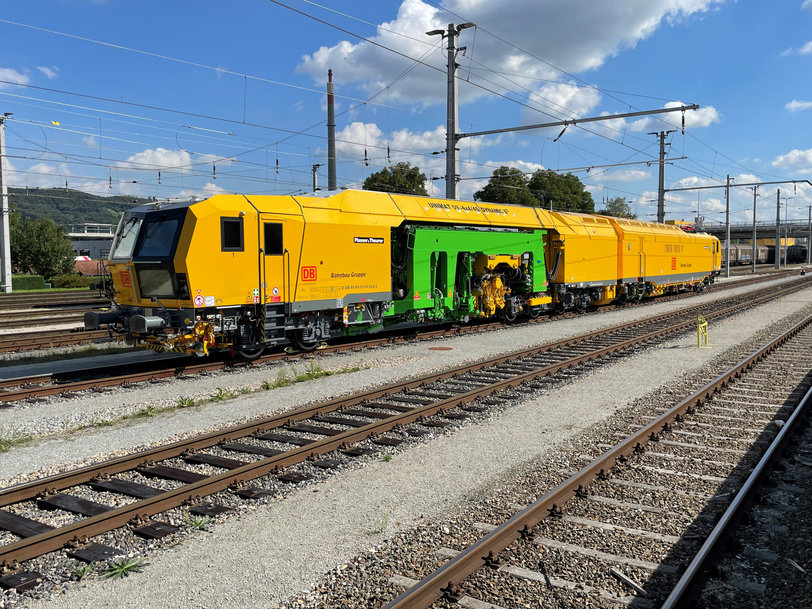 With this development for the DB Bahnbau Gruppe GmbH, Plasser & Theurer benefited from its status as technology leader.

Summers like the last one clearly show how the transition to climate-friendly technologies is a matter of urgency. That is why Plasser & Theurer is very proud to have launched the first machine with hybrid drive on the market as early as 2015. Four years later, DB Bahnbau Gruppe signed the contract for a new turnout and plain line track tamping machine. Its greatest advantages lie in the future-proof drive technology it uses.

The Unimat 09-4x4/4S Dynamic E3 is the first E³ hybrid machine for Germany. It can travel emission-free with green traction current. With a speed of 100 km/h in running mode, it quickly reaches construction sites in urban areas and tunnels. It is equally fast on heavy-haul lines where it unlocks its full potential as a true all-in-one machine. With its electrically powered 1-sleeper tamping unit, it can continuously maintain both plain line tracks and turnouts. One of its features is maximum flexibility in the turnout, thanks to variable use of 16 tamping tines, 3rd rail lifting, and 4-rail tamping technology. In addition, the DGS dynamic track stabiliser and the trailer with a sweeping unit ensure a perfect finish after tamping.

Track maintenance is quieter than ever

Thanks to the hybrid drive and the electrically powered tamping units, the Unimat 09-4x4/4S Dynamic E3 is noticeably quieter, with noise levels down by approx. 20 dBA. At the same time, the hybrid drive also significantly reduces the consumption of vehicle fluids. This completely eliminates the need for fuel consumption when running in the electrified network. In addition, the hybrid drive provides a savings potential of approx. 170 euros per hour compared to a conventional drive. The machine also requires 80 % less oil, which also leads to lower operating and servicing costs.

On top of all these technological advantages, the machine also sets new standards in terms of ergonomic design. Operators can already look forward to cabs and workrooms with modern fixtures and fittings. Thanks to a dedicated crew room with an integrated workshop area, it is not necessary to leave the safety area of the machine for breaks or small servicing jobs.

Option for a second machine in identical design

The contract for the Unimat 09-4x4/4S Dynamic E3 of DB Bahnbau Gruppe includes the option to supply a second machine in identical design. This option is available until 2026. The delivery time for the second machine would be reduced by almost an entire year, as the design work and, most importantly, the complex approval procedure have already been completed.
www.plassertheurer.com