railway-international.com
Written on Modified on
Driving simulators have come a long way in recent years, offering an immersive, virtual experience that allows customers to get to grips with a train even before it is built. Stephen McNabb Simulation & XR Digital Training Solution Director, outlines the advantages the technology affords to train operators.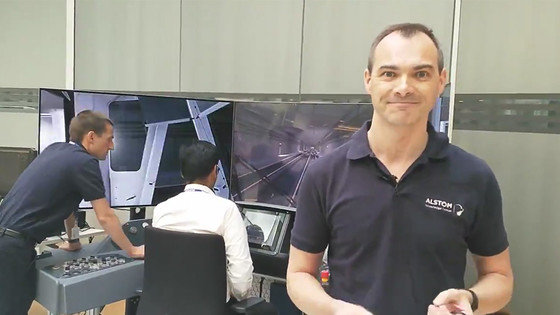 Alstom driving simulator with 3D Dynamic Avatar

As well as being a certified trainer for more than 15 years, Stephen is now leading our digital training solutions division. Stephen also has extensive experience in maintenance of both rolling stock and signalling & infrastructure activities with Alstom since 2006. Stephen held several senior roles in Europe and the Middle East including Quality Director, Project Manager, Service Infrastructure Project Director and more. He has led several maintenance projects in all project phases.
Stephen is currently based in Paris and works in the Alstom Services Product Line, and supports all our local teams and customers worldwide in particular on our VR driving simulator product.
What are the main needs of customers when it comes to driving simulators?

Alstom has developed virtual reality (VR) technologies mainly to allow drivers and crew to be trained on how to drive a new rolling stock product, either on an existing, modified or entirely new transport system. One of the challenges for customers and operators is how to train a large number of people in a short period of time, especially when the product may not yet be available. A driving simulator enables this, in a safe way. A simulator also allows us to demonstrate the safety of any product or rail system.
There's the technical side, training drivers and other crew on the product, the system, but simulation can do much more than this. A driving simulator allows training on other aspects of the job, such as how a driver reacts and communicates to passengers and the control room when there's a problem, such as a door not working or a passenger incident. This is also part of the driver's job.
Customers also want to use driving simulators to train for different conditions of driving. For example, in countries such as Canada where they have nice summers, but very harsh winters, drivers use simulation to practice unfamiliar conditions. Most customers request not only a reproduction of the rail line(s) their rolling stock run on, but also the real city and environment. We can provide a complete city reproduction, and if 3D building information modelling exists, we can produce a city and transport digital twin.
Explore the different types of our simulators
How do Alstom's simulators answer those needs?

Alstom simulators allow customers to perform training in an entirely safe, accessible and available environment, to impart the correct information, the correct skills and the correct attitude. Alstom simulation technology is a real-world simulation of the complete transport system in 3D. It is not just the train, but also the complete transport system. This means we have the ability to train 'the day in the life of a driver'.
We go beyond training on the product, the operator's procedures are integrated into the simulator to ensure excellent performance. For example, customers without a simulator might have a 15-20% variability between the 'good' and 'best' drivers in terms of comfort for passengers, energy efficiency, etc. By training drivers with a simulator, say, on braking more efficiently, variability drops to 5-7% and drivers become even better. Once a customer has a driving simulator, the possibilities on how they train their people are transformed. It allows you to go beyond the classic initial objectives of safety, knowledge of the product and knowledge of the process, and towards competency and human factors training.
What are the key differentiators of Alstom's simulators?

When we hand our simulators over to customers, they inform us that it gives the most realistic performance and function of the train and the signalling system, and that it is the only simulator that provides a fully immersive experience of the full 'day in the life of a driver' in a completely dynamic and interactive way.
The technology that we use allows a 'first person' perspective training experience, not only for the driving, but for everything the driver does, leaving the cabin, walking through the train and outside the train. There is no other simulator on the market that is able to do these things.
We recognised a need, seven years ago, that the simulators on the market were not able to meet the full training requirements that we were being asked to perform as a railway original equipment manufacturer, and this is why we started our own development programme. We collaborate with a simulator provider from the aerospace industry using specifications for the railway market according to Alstom's design and specification.
Our simulators are also easy to use. The customer can create new training scenarios very quickly and easily, without knowing any code.
Experience a day in the life of a train driver in different environments.
www.alstom.com