railway-international.com
Written on Modified on
GATX Rail Europe has invested in additional specialized rail tank cars of type 7182 for the transport of Ethyl and Methyl Chlorides as well as other Vinyl Chloride chemicals. Newly built and assembled in our WSO workshop, we look forward to delivering the LPG cars to our chemical industry customers in mid-2022.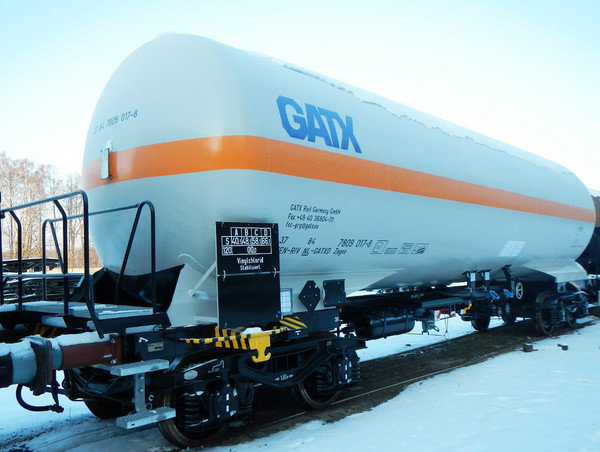 The 7182 is a modern 82m³ LPG railcar with a classic design that has been optimized for the transport of heavy Class 2 gases. This state-of-the-art railcar features key upgrades to its design, materials, and other components aimed to improve safety, durability, and efficiency while meeting all certification criteria.
The 7182 is made from P460/630 grade steel. Its 14.83m length over buffers allows for space to mount all necessary equipment, such as t-pipes and brake apparatuses. The weight of the car has also been reduced to just 23.2 tons. It is equipped with a hydraulically operated bottom valve and 25-ton enhanced wheelsets, built in accordance with the European standards of freight axle design (ESFA). The 7182 also features a DOT Telematik's self-sufficient telematics system that tracks and traces the cars. It is compatible with the Digital Automated Coupling (DAC) system and has received full approval following the TSI WAG and TSI noise regulations.
True to its values, GATX Rail Europe always focuses on making railcar leasing easier and safer for you, while bringing high-quality and optimized solutions. This is why we source all car components, such as tanks, valves, bogie frames, wheelsets, and crash buffers from top-tier and reliable suppliers.
What is the 7182 railcar transporting?
Known as Vinyl Chloride Monomers (VCMs) in the Chloride market, these chemical intermediates are colorless and flammable substances. The VCMs are important due to their extensive use in the production of Polyvinyl Chloride (PVC) resins. This resin, along with other vinyl, is an essential ingredient for the current global petrochemical, tobacco, and thermoplastics industries.
The safe and efficient transport of these substances is key for many overlapping industries that either use or are involved in the production of different plastic products, such as pipes, wire, cable coatings, and packaging materials. Given these chemicals' versatile use in Europe, GATX Rail Europe's newly built LPG car is a cost-effective answer in the transport of Ethyl, Methyl, and Vinyl Chlorides.
www.gatx.eu