railway-international.com
Written on Modified on
Rail Freight Forward News
RAIL FREIGHT FORWARD (RFF) is the EUROPEAN COALITION of RAIL FREIGHT undertakings, industry partners and federations.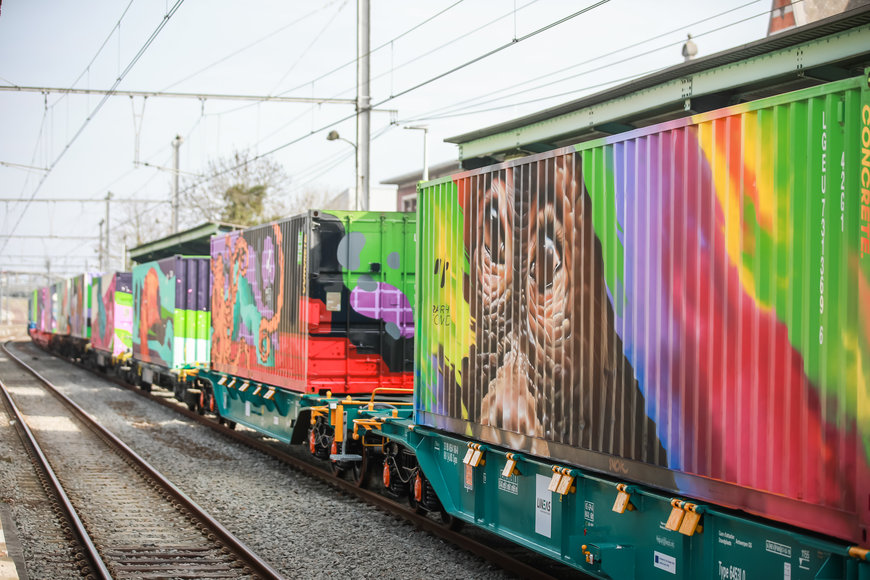 Formed in 2018 during COP24 and brought to life by NOAH's TRAIN, the longest mobile artwork in the world, RFF is raising attention for the role and emphasizing the relevance of RAIL FREIGHT for Europe's future and climate!
THIS IS WHAT WE DO
The RFF coalition is unified and driven by their common vision "to make rail freight the green & multimodal, logistical backbone for all people in Europe". To achieve this, we need a #MODALSHIFT striving for #30BY2030 - a 30% modal share of rail-freight by 2030.
#MODALSHIFT #30BY203
0
... is neither a marketing claim nor an economically competitive target. It's an essential contribution and a necessary condition to fulfill the objectives of the European Green Deal!
Road transportation emits 275 million tons of CO2 every year with dramatic consequences - no further need for explanation.
If railway undertakings, infrastructure managers and policy makers fail in turning around growth trends in road transportation now, by 2030 people in Europe will see ONE MILLION trucks ADDITIONALLY to the 6 million already circulating around our living environment.
BY REVOLUTIONIZING THE WAY WE WORK
Radical transformation in terms of European co-operation among all players within the logistics chain, as well as fast implementation of new technologies to rolling stock and existing infrastructures and leveling the playing field between transport modes, will allow Europe's rail freight industry to finally unfold its full potential and achieve a modal share of 30% of all goods transported in Europe by rail until 2030.
SERA, the Single European Railway Area, through its combination of interoperability, digitalisation, automation and multimodality, will enable high-performance rail logistics processes that support our daily lives.
Green, Resilient, Innovative.

WE'VE GOT THE VISION
Implementing 5 technologies making rail freight :
- Seamless thanks to Digital Platforms (DP). One consolidated data system for all countries and companies allows for seamless international transport and new more competitive rail freight products for customers. All rail freight corporations agree on one platform for Europe
- Borderless thanks to European Rail Traffic Management System (ERTMS) granting consistent digital infrastructure and train systems throughout Europe, thus allowing for our "one train for Europe" vision.
- Flexible by Digital Capacity Management (DCM). Internationally standardized capacity planning enables instant and fully digitalized freight booking
- Easier by Autonomous Train Operation (ATO). Automatic steering and pacing supervised by one train operator allows for both remote steering by qualified pilots as well as fully automated control in terminals and shipyards, opening up the way for more trains operating simultaneously and thus higher freight loads being transported
- Faster thanks to Digital Automatic Coupling (DAC). Replacing manually operated coupling with a stronger standardized digital solution allows for longer and heavier freight trains with higher speeds. Train assembly is fully automated.
WE'VE GOT THE POWER
"Conditions for the modal shift in freight traffic have never been better. As a society, we are constantly asking for more sustainable logistic solutions. Politicians are starting to react both nationally and Europe-wide, shooting for an ambitious Green Deal. Combined with a rail freight sector more unified than ever, I am convinced we are entering a rail freight renaissance in the 2020s."
Clemens Först, RFF Chairman and CEO of ÖBB Rail Cargo Group
"Innovation is our major asset to convince shippers to shift goods from road to rail. It is vital for our common fight against climate change. This whole campaign aims at working together more closely with European decision makers to help us take our part in this common fight, through supportive regulations and investment in innovation. Let's move Rail Freight Forward together!"
Frédéric Delorme, President of Rail Logistics Europe.
www.railfreightforward.eu