railway-international.com
Written on Modified on
Arc has invested more than $5m to upgrade the track between Myamin and Menzies, and Doney and Goongarrie.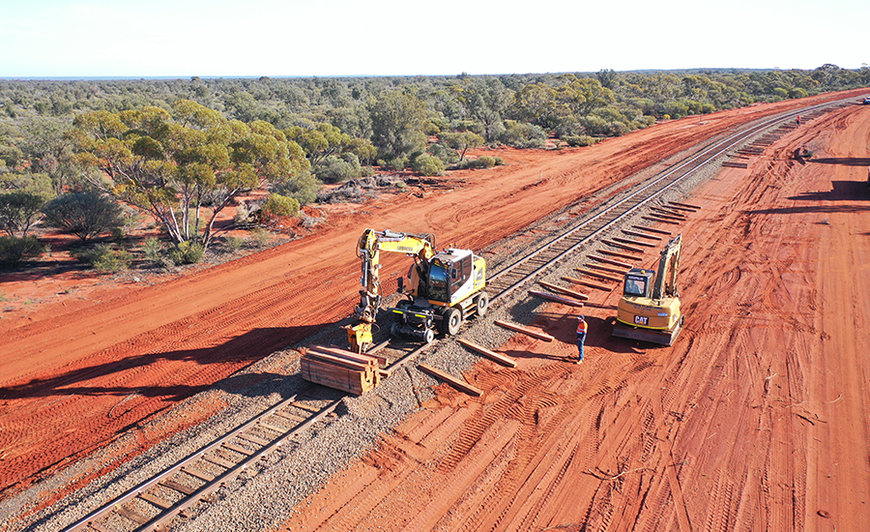 Arc Infrastructure has completed Stage 7 resleepering works on the Leonora Branch Line (LBL) to upgrade and maintain safe operations on this critical part of the freight rail network, used to transport in-demand nickel.
The LBL is a standard gauge line that connects to the Eastern Goldfields Railway (EGR) and Esperance Branch Line (EBL) to transport products to Kwinana and Esperance Ports.
At a length of 260km, the line stretches between Leonora and Kalgoorlie, and traverses through some of the most remote locations on the Arc Infrastructure network.
The Stage 7 works are part of a broader eight stage annual program that commenced on the LBL in 2013 and is due to be completed in 2022. Arc has invested more than $5 million to complete Stage 7 works this year, as part of an overall investment of $56 million over the eight year program.
The Stage 7 works saw 17.4km of track upgraded between Myamin and Menzies, and Doney and Goongarrie.
The track has been upgraded from a 1:4 steel/timber pattern (one steel sleeper per four timber sleepers) to a 1:2 pattern (one steel sleeper per two timber sleepers) to increase the resilience and lifespan of the asset.
The LBL was the first line on Arc's network to incorporate the use of new 12mm heavy-duty steel sleepers, which have a lifespan of around 40 years, compared to the 15 year lifespan of timber sleepers.
Arc acquired a fleet of 16 ballast wagons for the project to increase productivity, reduce the number of ballast drops required and minimise disruption to customers using the line.
The completion of Stage 7 works will see train journey times on this part of the network reduce by ten minutes.
Demand for nickel, which is transported on the LBL, has surged due to the increasing global shift towards electric vehicles. Nickel is a key component in electric vehicle batteries.
The upgrade of the LBL builds on Arc's recent investment in the Goldfields region, which earlier this year saw the opening of the Hampton Intermodal Terminal to support the BHP Nickel West transport task.
www.arcinfra.com